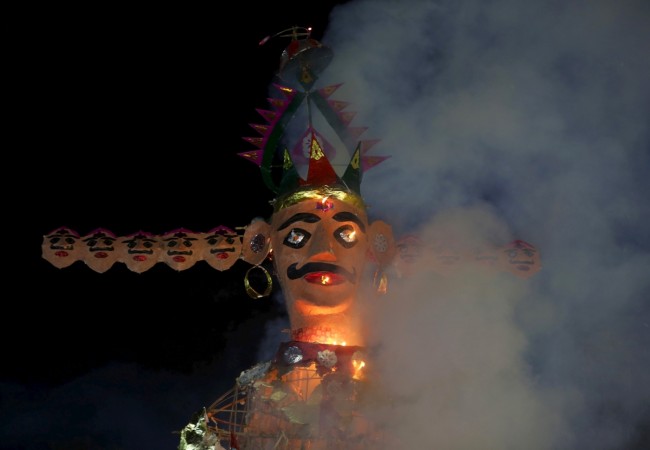 Diwali is not just celebrated as the festival of lights, but also the festival when Ravan is vanquished by Lord Ram and he successfully returns to Ayodhya with Sita and Laxman. We all know the mythological story, but what's interesting is that netizens have now taken it upon themselves to figure out how Lord Rama could have made that Sri Lanka- Ayodhya journey in 18 days. Given the topography, the distance and the lack of fast modes of transport (like automobiles) during that time, how did he cover the 3000-odd kms so fast?
Here are the answers doing the rounds on social media. As per Gunjan Gupta, since the king would have access to the best horses, he would easily have been able to do 100 kms a day on a horse. He adds, "So 100 km in a day is quite possible. Although it is unlikely that same horse can travel for 100 km in a stretch for 20 days. However note that Rama had well wishers and friendly kingdoms all along the way, so it is quite possible that en-route they would have been changing their horses, again getting the best and fittest horses along the way."
Meanwhile, netizen Mani Duraisamy said he felt there were three possibilities. "I see three possibilities here: 1. Rama, Lakshmana and Sita walked continuously for 18 days without rest (as demonstrated in the other answers) and reached Ayodhya on time for the festivities. But since we are not talking ourselves into a realm of magic and considering Rama and others are super-avatars, this explanation is rejected. 2. They took the Pushpaka Vimana (flying chariot) or rode on Hanuman's back at times . Its said that Hanuman also went and stayed with Rama in Ayodhya for some time. Its more likely that Hanuman might have 'escorted' them. But again- we did not invent aeroplanes at that time, and the flying monkey is just a metaphor. So this is rejected as well. 3. The final and the rational explanation is that its very possible that Rama's 14 year old exile would not have completed exactly on the day he killed Ravana. I will focus on this one here."
But Asish Tiwari referred to Google maps and simply stated, "See, what I have found on google maps. On checking the distance and the time taken by walking to cover that distance is 514hrs. it means approximately 20 days. Only thing we have to assume is, Shree Ram walks continuously for 20 days, I think that's why we call him GOD."