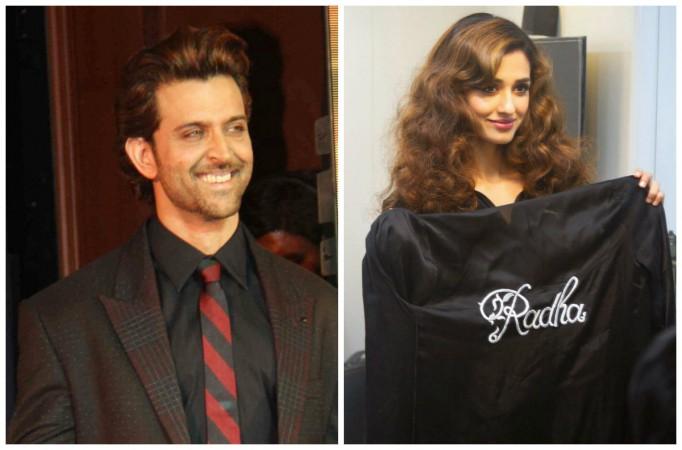 Hrithik Roshan has responded to the reports that claimed that he tried to flirt with Disha Patani, following which she backed out of his upcoming Yash Raj Films project.
According to reports, Disha was brought on board for YRF's next dance film that also features Hrithik and Tiger Shroff. However, the actress had reportedly stepped down from the project after Hrithik tried to flirt with her and asked her to go on a date with him.
The actor has now responded to the reports with a severe dose of sarcasm. He shared screenshots of two reports that covered the story. Without using any harsh words, Hrithik simply rubbished the rumours and also slammed the reports with sheer sarcasm.
"My dear friend, "Journalist", do you workout? Get a little gym. All garbage will be removed from mind! Especially twenty donkey kicks, twenty monkey rolls & 2 dog jumps will be right for you. Make sure you do. Good luck. Good day And love you too :) [loose translation]," he tweeted along with the first screenshot.
"'Bhaskar bhaisaab? Where are you? All okay? Look at this tweet from my side for the progress of your shop. Next time tell me directly when you need my help [loose translation]," he said in the second tweet.
मेरे प्यारे मित्र 'पत्रिका जी", कसरत करते हो? थोड़ा gym जाओ। mind से सारा कचरा निकल जाएगा! ख़ासकर बीस donkey किक्स, बीस monkey रोल & 2 dog jumps आप के लिए सही रहेगा। ज़रूर कीजिएगा। गुड luck. गुड day. And लव you टू :) pic.twitter.com/ikuNWmie21

— Hrithik Roshan (@iHrithik) August 28, 2018
'भास्कर bhaisaab? कहाँ हो? हाल चाल सब? सब ठीक? देखिए, आपकी दुकान ki प्रगति के लिए मेरी तरफ़ से यह ट्वीट. Next time सीधे बोल देना की help चाहिए। pic.twitter.com/f92izpXh1v

— Hrithik Roshan (@iHrithik) August 28, 2018
Earlier, Times Now had reported that the rumours were baseless and both Disha and Hrithik found those to be too silly. Apparently, Disha was never offered the role in the film in the first place.
"They were, in fact, laughing off such childish rumours surrounding the actress. Working with a superstar like Hrithik Roshan is a chance that most newcomers don't get and is too good to miss. Disha has high regards for Hrithik Roshan and he features amongst the top names on her wish list to work with," an insider was quoted as saying by the TV channel.
The rumours have been finally put to rest after this direct clarification from Hrithik himself.