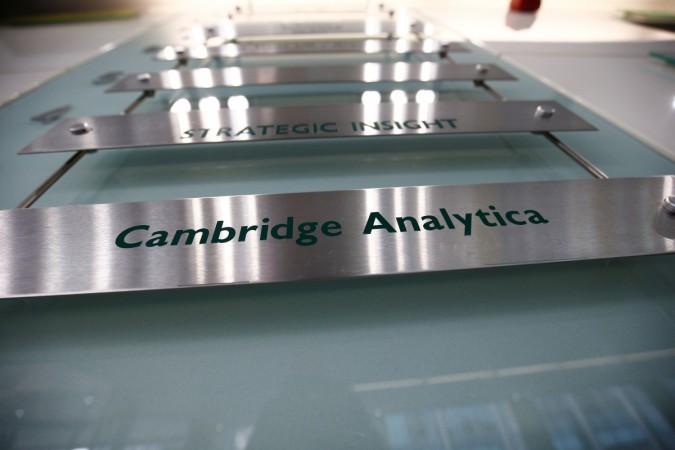 British data analytics and election strategy firm Cambridge Analytica's (CA) claim that it was "contracted to undertake an in-depth electorate analysis for the Bihar Assembly Election in 2010" has stirred a political controversy in India. The row found the Bharatiya Janata Party (BJP) and Congress engaging in a war of words and accusing each other of using the company's services.
Information technology and law minister Ravi Shankar Prasad alleged Wednesday that the Congress had links with the British firm which is embroiled in a scandal over the alleged use of personal data of 50 million Facebook users without their consent. He said that social media shouldn't be misused in the electoral process.
However, Congress spokesperson Randeep Singh Surjewala denied having any links with the CA. Instead, he alleged that the BJP-JD(U) combine had used the services of the firm in 2010.
JD (U) has also denied links with the controversial firm. The party's senior leader KC Tyagi said that his party had not taken any help from the company in the 2010 election.
The Indian political parties may have denied links with the CA but Ovleno Business Intelligence (OBI), the Indian arm of the CA, has mentioned on its website that the BJP, Congress, JD (U), Airtel, and ICICI Bank were its clients.
OBI has a tie-up with SCL (Strategic Communication Laboratories) Group, the parent company of Cambridge Analytica.
"We at Ovleno Business Intelligence completely believes in ethics and legal system of india . We are not denying our association with SCL/Cambridge analytica but we are a ground research company closely working with various media houses and not undertake any project with CA related to social media (specially Facebook)," Himanshu Sharma, Vice President OBI, said in a statement Thursday.
He went on to say that OBI would end its association with SCL following the data breach controversy.
Interestingly, the website of OBI has been suspended at the time of writing this report but a screenshot of the website is still available on social media. It is not known why the website has been taken down.
Screenshot from website from Cambride Analyitca's Indian arm shows BJP, Congress and JD(U) as clients. So why are parties in denial, or blaming each other for CA links? Watch @ndtv for more. pic.twitter.com/uoQeWETyuz

— Sreenivasan Jain (@SreenivasanJain) March 21, 2018
The LinkedIn page of Himanshu Sharma states that his company had successfully managed four election campaigns for the ruling party BJP and "achieved target of mission 272".
Here are screenshots of LinkedIn page of Director of Cambridge Analytica's Indian arm, saying "managed 4 elections successfully for BJP", "helped achieve mission 272." @BJP4India: response please? pic.twitter.com/NaxNJJdzzb

— Sreenivasan Jain (@SreenivasanJain) March 21, 2018