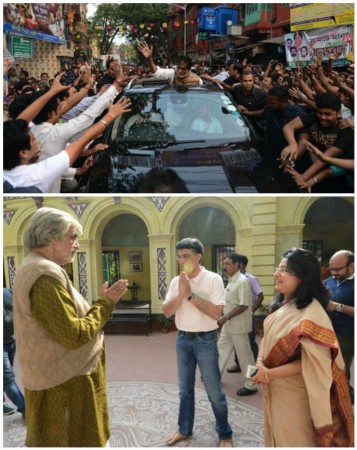 Photos of Aaradhya Bachchan's birthday party released to the media feature numerous celeb and their children, but her grandfather Amitabh Bachchan is nowhere to be seen. Did the Bollywood megastar give a miss to her birthday celebrations?
While it cannot be confirmed that the actor was missing from the lavish party, which was held at the Bachchan's home Prathiksha in Mumbai on 16 November, from his blog and Twitter handle, it appeared that Amitabh was busy with his shooting schedule.
The "Bhootnath Returns" actor often tweets about any celebration that takes place at his home, but this time he chose to stay mum. Instead of posting any message to the little one, he re-tweeted a post from one of his followers which read: "@SrBachchan #HappyBirthdayAaradhya ...wish your princess love happiness and all the best Amen..God bless her always."
As per his blog post, the senior Bollywood actor was in Kolkata, where he is busy shooting for his upcoming movie "Piku". Big B posted some photos of him surrounded by fans on a Kolkata road and wrote, "Sundays have a special place in the mind and heart .. that of the meeting of the well wishers on the doors of Jalsa .. and to say that i do not miss it would be so wrong .. I miss it and the roar of affection and love ... BUT"
"Here in Kolkata, had a large taste of it when I left the work in the evening .. the people and their love still amazes me .. I often wonder there are so many others which deserve to get all this and they do.. so mine should diminish or not be there at all .. at 73 , this is not correct I would say .. not correct in a way that says it is past the time and place for it .. so let it disappear and evaporate like most other ..." he added.
Amitabh Bachchan also revealed that he met Sourav Ganguly and Niladri Kumar on Sunday. He wrote, "There have been some greats on set today.. the great and legendary Saurav Ganguly, India's pride on the Cricket field .. And then the maestro Niladri Kumar, the incredible sitarist, one whose music remains permanently on my music platforms and systems .. Such an honour to be in their company .."