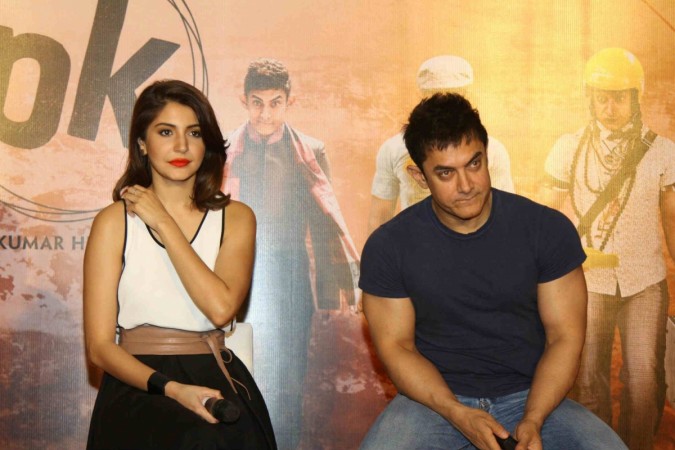 Bollywood Superstar Aamir Khan, who restrained himself from promoting his movies in the past, is leaving no stone unturned to promote his upcoming movie, "PK" and he recently seemed to be garnering attention for the movie through the rumours surrounding Anushka Sharma's engagement.
Aamir Khan's next outing "PK" is comedy-drama family film and it is slated to release in theatres on 19 December. The Superstar has planned to promote the film heavily and is said to have some unique promotional strategies for the film.
On 23 October, Aamir Khan attended the teaser launch of "PK" with Anushka Sharma. During the interaction with the media, the actress was asked about the rumours about her engagement with cricketer Virat Kohli, but she declined to talk about it. "No, I mean this is not the platform to speak about it," The Times of India quoted her as saying.
Meanwhile, Aamir Khan tried to dig deep into the details of Anushka's engagement. "Lets go on another platform, we will get the answer to this question. All of us want to know. Change the platform but we want the answer," the actor urged the actress during the occasion.
Did Aamir Khan have some ulterior motive behind insisting Anushka Sharma to talk about her engagement? Did he try to get public attention for his upcoming film "PK" out of the issue? Has he started believing in the saying, "All publicity is good publicity"?
The answer to all these questions is no. Aamir Khan is a noble actor and he is not like other Superstars who crave for public attention. He hardly has any history of such a cheap publicity stunt in the past. Instead of resorting to such strategies, he would rather not have publicity for "PK" at all. He was jovial, when he urged Anushka to talk about it. Like everyone else he was also curious to know about the rumours.
When we look at the history, Aamir Khan has hardly attended any promotional activities of his movies in the past. It was only with "Dhoom 3", he started taking part in the publicity events. However he is said to be appearing on some popular TV shows to promote his upcoming project, "PK".