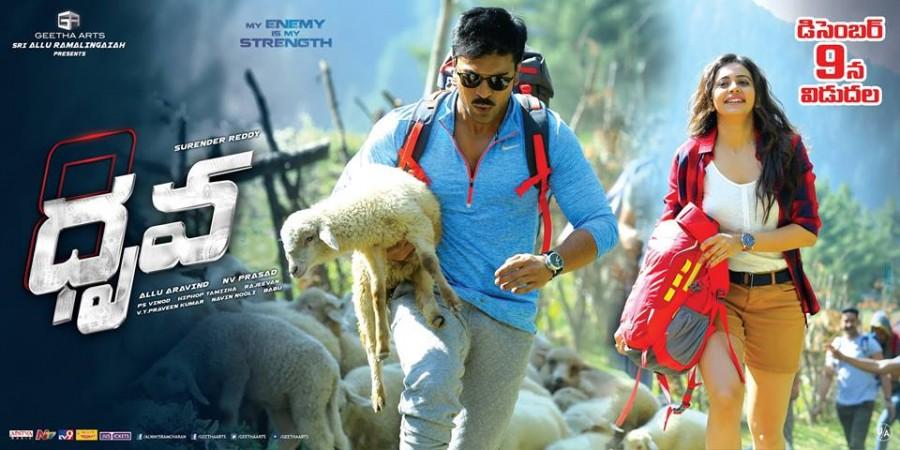 Ram Charan and Rakul Preet Singh-starrer Dhruva, which was released in theatres around the world on 9 December, has received positive reviews and rich ratings from film critics.
Dhruva is the remake of action-thriller movie Thani Oruvan, which tells the story of a police officer who is hell-bent on arresting a rich, sly criminal. Director Surender Reddy has made some changes to the original screenplay and added some commercial ingredients to suit the taste of the Telugu audience.
The critics say that Dhruva has a simple story and intriguing screenplay, which makes the movie an edge-on-the-seat thriller. Though its runtime is a bit lengthy, the movie is entertaining and engaging. Some songs, romance and comedy scenes appear as speed breaks to the thrilling narration.
Ram Charan and Aravind Swamy have delivered brilliant performances, which are the highlights of the film. Rakul Preet Singh's glamour and Krishna Murali Posani's comedy are among its assets. The movie has rich production values and music, camera work and action choreography are the attractions on the technical front, add the critics. Continue to see critics' verdict and ratings in the Dhruva review round-up:
IBTimes India Ratings: 3.5
Dhruva is a must-watch movie for its intelligent and thrilling screenplay, brilliant performance by Ram Charan and Aravind Swamy and superb production values. If you are a Cherry fan, then don't miss it. It's a grand treat for you.
First Post Ratings: 3
Most of the original has been retained and deviations, if any, are small. The one thing that is bothersome is the dubbing. The glitch is frankly, very evident. This Thani Oruvan remake works for Charan in many ways. Here's hoping the actor takes up more such plots, where he has a chance to display his craft and not just his moves or style.
AP Herald Ratings: 3
Ram Charan's acting as an IPS officer has enacted phenomenally and has proved his individuality. Siddharth Abhimanyu's style of acting is outstanding and his strong attitude is the strength of the movie. Dhruva along with his friends targets the antagonist and the scenes are highly thrilling. Rakul Preet Singh's costume is classy and the romantic songs will stay in the minds of his fans. The action scenes are energetic and stunt choreography is made well.
123 Telugu Ratings: 3.5
Dhruva is a perfect comeback film for Charan. He should be credited for choosing a unique film like this and giving his best through a standout performance. The engaging narration, interesting twists and some superb mind games are huge assets of this film. The film will impress each and every section of the audience and is bound to do well. If you ignore the small glitches here and there, this film is a perfect action entertainer to watch out this weekend.
Idlebrain Ratings: 3.5
Plus points of the film are story, screenplay, performances and technical values. On the flipside the runtime is lengthy and there are a few scenes that appear dragged. Dhruva is one such a kind of film that kills the familiarity and routine (except for a couple of love-related scenes with heroine and a bit of comedy projected scenes through Posani character). Making an unfamiliar film and keeping it engaging throughout is a rare feat and Surender Reddy deserves an applause for it (though it's a remake). Solid story, engaging screenplay and riveting performances make Dhruva an intelligent thriller which is at par with any of Hollywood or Korean films (thanks to Mohan Raja). Go and watch it!
Sify Ratings: 3.25
Dhruva, the remake of Tamil hit movie, is an engaging and intelligent action drama. The screenplay is terrific and the game between Aravind Swamy and Ram Charan makes the movie a thrilling watch. Surender Reddy has packaged it stylishly but length is its drawback, though.