The audio album of Telugu movie Dhruva starring Ram Charan and Rakul Preet Singh was launched at 12 am on Wednesday. The makers released its songs directly online sans a music release function.
Recently, the makers of Dhruva revealed that they would release the music album of the movie directly into the market and there will not be a formal audio launch function for it. Rather they would hold a pre-release event for its promotion. They announced that its soundtracks will be unveiled on November 9.
Allu Aravind, who is bankrolling Dhruva under his banner Geetha Arts, announced this morning that the songs of the film would be released online at 12:00 am. He posted on the official Twitter handle of his banner: "Audio Releasing Tomorrow! #Dhruva A @hiphoptamizha Musical. Rocking album coming your way at 12 AM tonight! Get ready for #DhruvaMusicBlast A @hiphoptamizha Musical."
Aditya Music has bought the music rights of Dhruva and it will bring its audio album to the market tomorrow. The bosses of the label posted link to pre-order the audio album on its official Twitter handle. They tweeted: "Here You Go :D Pre-Order Now the most awaited Audio of the year @hiphoptamizha Musical #DhruvaAudioCD's ► http://bit.ly/DhruvaAudioCDs"
They requested the fans to subscribe to the YouTube channel to Aditya Music listen to the songs of Dhruva. They tweeted: "A @hiphoptamizha Musical , #Dhruva Audio Jukebox Will be Unlocked Tonight at 12:00AM :D Subscribe & Stay Tuned @ http://youtube.com/adityamusic. Be First To Hear @hiphoptamizha Musical ,#RamCharan #RakulPreet's #Dhruva Songs:D Download #DhruvaOffcialMobileApp ► http://bit.ly/DhruvaOfficialApp ..."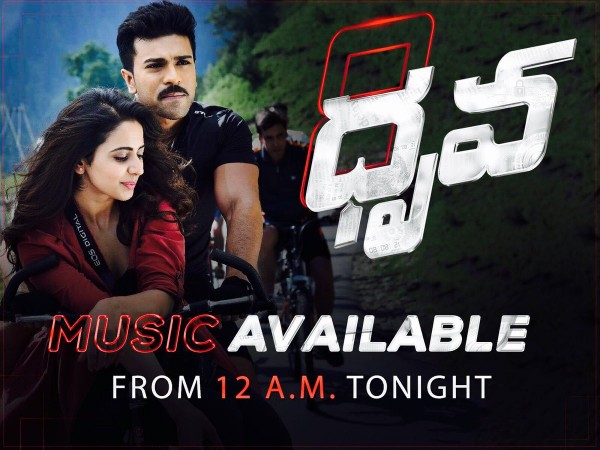 Dhruva, which is a remake of Thani Oruvan, has four songs and Hip Hop Tamizha, who scored music for the original, has composed tunes for its soundtracks. Here is the tracklist of Dhruva.
S.NO Songs Name Singers Lyricist
1 Dhruva Dhruva Amit Mishra Chandrabose
2 Choosa Choosa Padmalatha,Sniggy Chandrabose
3 Pareshanura Padmalatha Yadgiri
4 Neethoney Dance DivyaKumar, Nikitha Gandhi Chandrabose