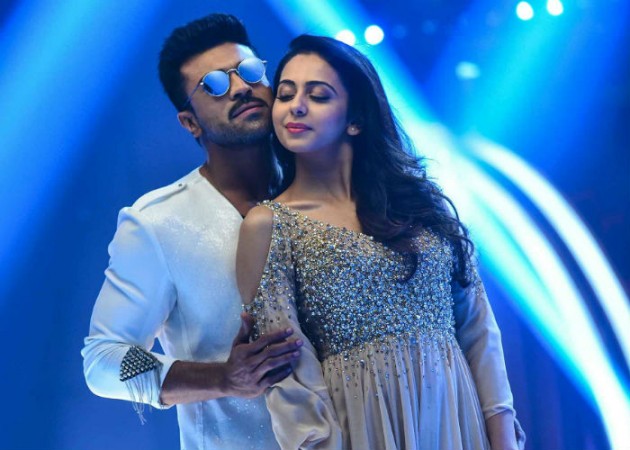 Ram Charan and Rakul Preet-starrer Dhruva fared well at the worldwide box office in the third week, with its global gross collection crossing Rs 85 crore in 21 days.
Released in theatres on December 9, Dhruva received a good opening and collected Rs 64.40 crore gross at the worldwide box office in the first week. The movie clashed with Dangal, Nanna Nenu Na Boyfriends, Meelo Evaru Koteeswarudu, Janaki Ramudu, Ameerpetlo and Chinnari, which forced it out of some cinema halls. The film earned Rs 16.65 crore gross at the worldwide box office in the second week.
In its third week, new releases Pittagoda, Vangaveeti, Sapthagiri Express, Okkadochadu reduced its screen count further. The Surender Reddy-directed film witnessed a drop in viewership considerably. Dhruva is estimated to have collected Rs 6.50 crore at the worldwide box office in its third week, and its 21-day gross total has reached Rs 87.55 crore.
Dhruva was made with a whopping budget of over Rs 50 crore and its global theatrical rights were sold for a record price of Rs 57.50 crore. The movie is estimated to have earned Rs 53.94 crore for the distributors in three weeks. It needs to recover another Rs 3.56 crore for the distributors.
The Ram Charan and Rakul Preet Singh-starrer will clash with two new releases — Intlo Deyyam Nakem Bhayam and Appatlo Okadundevadu. Considering its current pace of collection, Dhruva is likely to take the next two weeks to recover 100 percent investment of the distributors.
Here is the estimated price of its theatrical rights and its earning share for the distributors in 21 days.
Area
Distributor
Rights Price
Earnings
Nizam
Geetha Arts
12.9
14.58
Ceeded
NVP
9
6.37
Vizag
Kanthi Krishna
5.25
5.07
East
Geetha
9.65
2.99
West
2.62
Krishna
2.79
Guntur
V Celluloids
4.59
3.3
Nellore
Sai Teja Films
2.10
1.26
AP/TS
----
43.4
38.98
Karnataka
Brunda
6.55
6.4
Rest of India
various
2.30
1.6
USA
Jollyhits
5.25
5.26
Rest of world
Rest of India
NA
1.7
Global Total
----
57.50
53.94