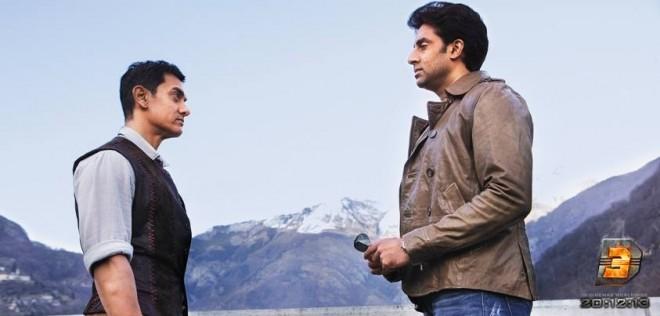 Vijay Krishna Acharya's second directorial film "Dhoom 3" has created real 'dhoom' in international market breaking the record of "Chennai Express".
The action thriller "Dhoom 3", which opened to mixed reviews, was released in more than 750 screens in international arena. The third franchise film in the "Dhoom" series has the highest opening day figures at the overseas box offices too.
From the overseas box office, the film minted ₹20.2 crore on the opening day.
The two day earnings of the Yash Raj production film is more than the three days' figure of Shah Rukh Khan's "Chennai Express".
Australia: "Dhoom 3" raked in total A$ 427,547 (₹2.37 crore) in two days, while "Chennai Express" minted A$ 385,262 (₹2.13 crore) from opening weekend.
New Zealand: "Dhoom 3" earned NZ$ 144,016 (₹73.21 lakh), while "Chennai Express" minted NZ$ 123,478 (₹62.73 lakh)
In Pakistan also, the film has created record by earning $ 210,000 (₹1.30 crore) (PKR 2.23 crore) on first day, trade analyst Taran Adarsh tweeted.
Even in Pakistan circuits, the advance booking was massive. "It is running back to back in Lahore and there is only Dhoom 3. It is dominating all multiplex timings. There are no tickets before Monday," producer Sarah Tarin told The Times of India.
In UAE-GCC market, the film had the biggest opening ever, collection $ 1,279,000 (₹7.93 cr), while in US-Canada market "Dhoom 3" raked in $1 million.
"Chennai Express" had shattered records at both domestic and overseas box offices, but with "Dhoom 3" Aamir has taken the top spot again.