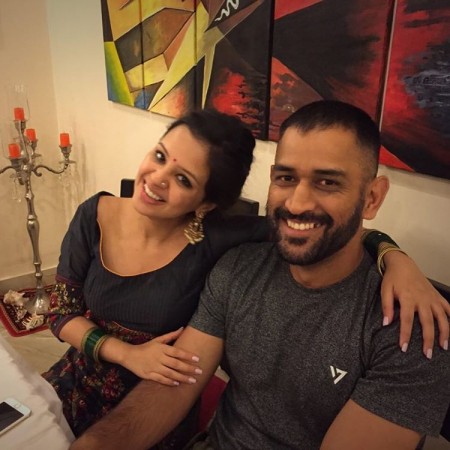 Which team does Indian cricket sensation MS Dhoni play for in the Indian Premier League (IPL) 2017? Any cricket fan will know that the former skipper is a part of the Rising Pune Supergiant (RPS). Does Dhoni's wife Sakshi Singh Rawat know that as well?
Well, we just hope she does.
Very much active on social media unlike her husband, the 28-year-old former intern at the Taj Bengal in Kolkata posted a selfie on Instagram wearing the jersey of Dhoni's former team Chennai Super Kings (CSK), just ahead of RPS' third match of the IPL against Delhi Daredevils on Tuesday April 11.
While we all know that CSK will return to IPL next year after their two-year suspension comes to an end, surprisingly Sakshi didn't get trolled for posting a photo of her with a CSK jersey while her husband Dhoni was plying trade with RPS at the moment.
We tell you why.
The caption of the photo was "#throwback," meaning she was just only posting a photo she had taken possibly months earlier, donning a jersey of the Chennai side. In case you don't know, 'hashtag throwback' is a trend that social media users use to post photos from the past -- be it childhood or a vacation they took years ago.
Dhoni and Sakshi tied the knot on July 4, 2010 at the Vishranti Resort in Dehradun. The marriage did come as a massive good luck charm to the cricketer as he guided Team India to lift the ICC World Cup for the second time in history in 2011.
Dhoni and Sakshi gave birth to daughter Ziva Dhoni in February 2015.
In case you don't know: Sakshi has a tattoo of her husband's nickname, Mahi, on her neck. Dhoni's name is inked in the Devanagari script.