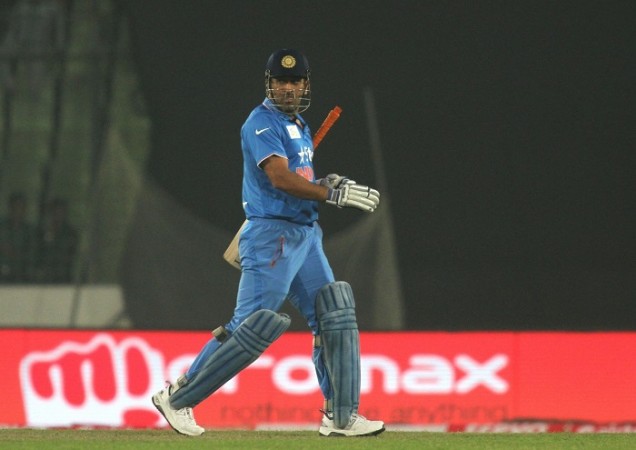 Watching MS Dhoni hit sixes and fours to finish off matches has been the ultimate ecstasy of cricket fans, especially in India, for many years.
The Indian limited-over skipper did what he does best as he hit an over-boundary to lead India to an eight-wicket victory against Bangladesh in the Asia Cup 2016 final in Mirpur, Dhaka, to successfully chase down the target of 121 and lift the trophy.
Dhoni, despite having back spasms, also helped Team India get a win over Pakistan earlier in the competition as he hit a boundary to finish the game with 27 balls remaining.
"I always feel good when it comes to batting, something that is very important is a decent opportunity to bat. Looking at the composition of the team, 90 percent of the time I will be playing the same kind of role that I played in the Asia Cup," Dhoni was quoted as saying by IANS.
The wicketkeeper-batsman's decision of promoting himself up the batting order during India's innings against Bangladesh was met with mixed reactions, but Dhoni's performance silenced his critics.
"I will get to play 20-25 deliveries unless I promote myself, but more often than not I will have to prepare myself for that. So that will be my role and responsibility more often than not. I feel good about that and ready for it," he said.
Looking back at the Asia Cup 2016 final, star batsman Virat Kohli said Dhoni's decision of coming into bat after the dismissal of Shikhar Dhawan was a good step as he is one of the best finishers in cricket. "MS Dhoni came in and did what he does best. He is the best finisher in the world," Kohli told to BCCI.tv.
Former Indian opening batsman Gautam Gambhir, who hasn't yet called it quits from international cricket, however, feels there was no reason for Dhoni to promote himself as he believes Kohli is more capable of playing the role of a finisher.
"Dhoni should decide on which position he wants to bat, and ideally he should bat at No. 6 or 7," Gambhir was quoted as saying by the Times of India.
"I don't believe in designating an individual as a finisher because a player who bats till the very end and finishes the game is the finisher. A finisher could be openers as well and we have seen Virat Kohli finishing games," the Kolkata Knight Riders skipper added.
Dhoni, however, begged to differ. The 34-year-old said a finisher is always a lower-order batsman and Kohli isn't really suited for that role.
"For me a finisher is a lower-order batsman, but it is always good to have somebody like a Virat coming in at number three and he often sets the game for the others," Dhoni explained. "It's for the lower-middle order to finish a game, Virat is a fantastic player but the term finisher should be used for a batsman playing at number 5, 6 or 7.
"The job profile of a finisher is different, one needs to think twice before hitting a big shot because there are not many batsmen left. It's a complex job to say who is a finisher but if we have three Virat Kohlis, playing as the top three, one will definitely end up finishing the game," he said.