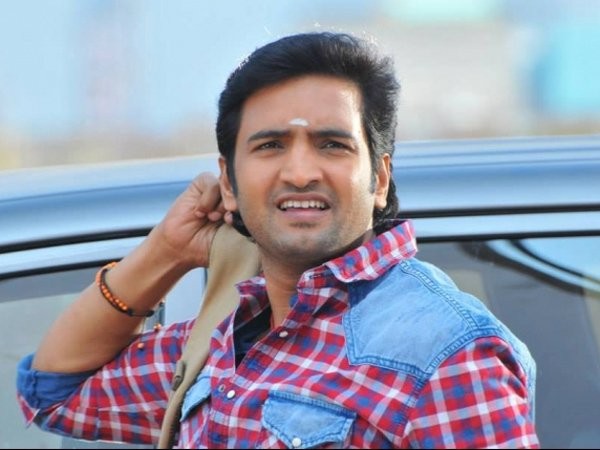 Santhanam's "Dhilluku Dhuddu" has opened to mixed reviews. It is a slapstick horror-comedy movie, which has been written and directed by Rambala. The Tamil movie features SS Thaman's music, Deepak Kumar Pathy's cinematography and Gopi's editing. Shanaya plays the female lead in the film, which also stars Karunas, Mottai Rajendran, Anandaraj, Saurabh Shukla and others in the supporting cast.
In the recent years, Kollywood has witnessed a lot of horror films, which are usually set in a haunted house or a deserted bungalow. "Dhilluku Dhuddu" stands different as the makers have used a different template for the narration and people should watch the film to know the difference.
Story:
The hero (Santhanam) and heroine (Shanaya) are madly in love but like in usual films, their relationship is opposed by her father played by Saurabh Shukla. In order to break them apart, her father uses the help of a baddie (Mottai Rajendran) to teach the boy a lesson.
The villain now hatches a plan and ensures to bring Santhanam to a haunted house without knowing that the bungalow is affected by spirits. The remaining part of the story turns out to be a rib-tickling affair.
Reviews:
People have say that "Dhilluku Dhuddu" is an enjoyable ride. While the first half is not up to the mark, the second half is hilariously brilliant. Santhanam has done an excellent job and one can see notable improvement in his performance compared to his previous films in the lead roles. He is getting used to dance and fights. Shanaya is okay. But Karunas, Anandraj, Saurabh and TM Karthick are delight to watch on-screen. Mottai Rajendran steals the show with his fantastic performance. While the music could have been a lot better, the cinematography department has done justice.
Overall, cine goers have declared that the film is a good time-pass entertainer. Here is the audience response to the film:
Kaushik (LMK): #DhillukuDhuddu -Good production values @ThenandalFilms. RamBala picks it up in the 2nd half. Gud crowd response. @iamsanthanam can be happy
#DhillukuDhuddu -Once the film shifts to the haunted house, there are gud LOL moments. Rajendran, Anandaraj, Karunaas, S Shukla in good form
Female lead has no clue about what tamil is . No great makeup either . Big let down #DhillukuDhuddu.
Sreedhar Pillai: #DhillukkuDhuddu 2.75/5 @iamsanthanam finally got it right in the hero slot, enjoyable 2 a certain extent. Ghost v/s Ghost clash is USP
#DhillukuDhuddu 2.75/5. @iamsanthanam passed the test in commercial cinema -dancing & action scenes with ease. #Motta & #Karunas r a scream.
#DhillukuDhuddu 2.75/5. big weakness heroine & her lip sync. @MusicThaman music ok but placement awry. On the whole time pass horror comedy
Common Man Sathish: #DhillukuDhuddu - Real Ghosts vs Reel Ghosts - Whole Theater LOL, couldn't hear the dialogues. Yet another Pei Hit for @ThenandalFilms
Sashidharan: #DhillukuDhuddu Complete Entertainer.These kind of roles only Santhanam can do so flawlessly just like how only thalaivar can do few roles
Kannan: #DhillukuDhuddu - Dir Rambhala of #LolluSabha fame delivered an enjoyable horror comedy with difference! Congrats to the team 4 this winner!
#DhillukuDhuddu - Supp cast: Anandaraj, Saurabh Shukla, Karunas & esp. #MottaiRajendran rocked and Shanaya okay. Thaman's music adequate!
#DhillukuDhuddu: @iamsanthanam turns full fledged hero material with mass intro song, well choreographed fights & shines in comedy as usual.
#DhillukuDhuddu - Nice horror comedy flick that's fun & engaging with commercial elements mixed in right proportion. Go watch it! (7/10)
Rajasekar: #DhillukuDhuddu - Naan Kadavul Rajendran's typical mannerism is enjoyable, Saurabh Shukla' s frequent 'Muttal' dialogue works well
#DhillukuDhuddu - liked the reel ghosts vs real ghost idea. For an usual horror comedy, this film has great production value :)
#DhillukuDhuddu - first half falls flat with weak romantic portion while the second half is a complete laugh riot @iamsanthanam shines
Hari: #DhillukuDhuddu right done with the movie, after an average first half, the second comes with thunderous laughs @igtamil @iamsanthanam.
Latha Srinivasan: #DhillukuDhuddu - disappointing to say the least. I don't know why @iamsanthanam turned hero. I enjoyed him much more as a comedian
Haricharan Pudipeddi: Even with great potential to be a spoof on the horror genre, #DhillikuDhuddu doesn't quite do full justice. However, @iamsanthanam shines
Sagarâ"¢: #RunAntony First Half Just finished Super twist it is Housefull in Woodlands theater, Mysore.