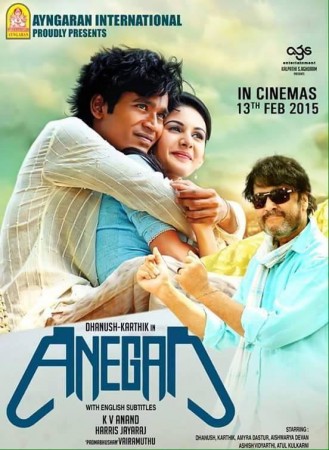 Dhanush's hit movie 'Anegan" has reached a milestone, completing 50 successful days run at the box office.
"Anegan' starring Dhanush and Amyra Dasthur in the lead, is one of the most noticeable movies of 2015 and has garnered good response from both critics and audience.
As the makers of the movie are celebrating this special day, the lead actor Dhansuh and director Anand KV thanked the audience, media and fans for their support.
AGS's #Anegan Thank you,all the Media & you.I repeat without the brilliant audience like u it is not at all possible pic.twitter.com/HinUHb0WXX

— anand k v (@anavenkat) April 3, 2015
#anegan 50 th day :) my sincere thanks to the audience,press,media and my entire team for making this possible pic.twitter.com/LSM1ngiuck — Dhanush (@dhanushkraja) April 3, 2015
For Dhanush, "Anegan" was yet another milestone as he appeared in four different roles in the movie, thereby raising the bar for himself as far as acting is concerned.
The movie revolves around a video game designer Madhumadhi (Amyra Dastur) who works in a multinational company owned by Ravi Kiran (Karthik). Aswin (Dhanush) is newly recruited to the company as system head. Madhu falls in love with Dhanush the moment she meets him, but Aswin thinks Madhu is crazy when she explains the reason for her to fall in love with him.
She tries to convince him by saying that they have been soul mates in three previous births but they could never be together as destiny forbade them. A series of thrilling turn of events in their lives connect them to their previous life and the characters in their present life.
"Anegan" star cast includes Aishwarya Devan, Lena, Ashish Vidyarthi, Mukesh Tiwari and Vinaya Prasad.