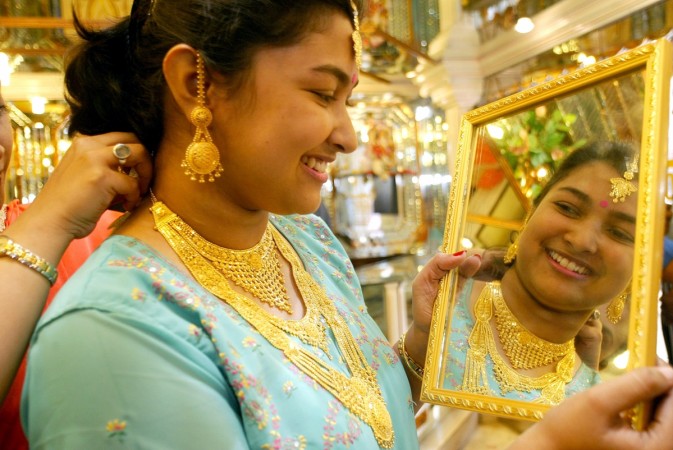 Dhanteras, the first day of Diwali and the festival of wealth, is considered to be auspicious for buying gold, silver and other valuables. A day devoted to worshiping the goddess of wealth -Goddess Lakshmi - Dhanteras is believed to bring prosperity and luck.
Falling two days before Diwali, Dhanteras 2014 falls on 21 October and gold sellers have announced special discounts and value offers to lure the customers.
Dhanteras 2014 would prove to be extra special for gold lovers, with sellers offering special discounts and deals apart from free gold coins and lucky draws.
Twenty-two karat gold will cost Tricity (Chandigarh Capital Region) residents ₹26,300, while it cost ₹29,900 last year and ₹30,700 in 2012. In the last five years, the lowest gold price on Dhanteras was in 2010 at ₹19,200, while 2011 saw a surge in gold price at ₹25, 900, although it was ₹400 cheaper than this year's price, according to The Times of India.
Reliance Jewels is offering 15% discount on gold jewels and full exception on making charges of diamond jewellery in honour of Dhanteras 2014.
In South India, the Chennai Shopping Mall, is offering free gifts worth ₹1 crore to a lucky-draw winner. The gift coupons for the lucky draw will be doled out on every purchase of ₹1,000, reported aeg India.
Another Chennai-based jeweller, GRT Jewellers, which is celebrating the 50th anniversary along with the festival of wealth, are offering customers silver worth the weight of gold they purchase and 25g silver on the purchase of diamonds.
While Kerala-based Joy Alukkas is giving out gold coins to customers who make a purchase of ₹25, 000, while also offering over fifteen thousand discounts on diamonds, Khazana jewellery is offering a discount of ₹100 on the purchase of every gram of gold jewellery.
This year, especially since these attractive offers are coupled with the fact that Dhanteras falls during the wedding season, the sale of gold is sky-rocketing.
"In summer and rainy months, people do not buy much of gold as very few weddings take place around this time. Same is the situation in extreme winter months. Therefore, this festival season is both auspicious and weather-friendly to shop for gold," Anil Talwar, the all-India chairman of gem and jewellery committee, told TOI.
According to All India Gems Jewellery Trader Federation, there is expected to be a growth of 15% in the sale of jewellery this year.