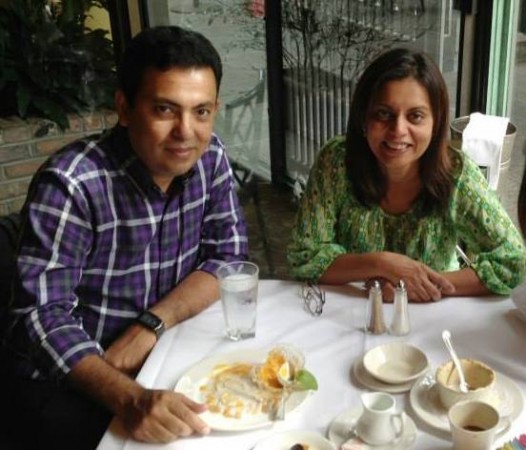 A message posted on a social media account affiliated to Bangladeshi terror outfit Ansarullah Bangla Team stated popular American-Bangladeshi atheist writer Avijit Roy was assassinated for his "crimes against Islam".
The message on the Twitter account of Ansar Bangla 7, @AnsarBn_7 said Avijit Roy was number four on the extremist group's hit-list for the last three to four years.
Announcing the brutal killing of Roy, the terror group tweeted: "Allahu Akbar..A great success today here in #Bangladesh. Target is Down -:- here in #Dhaka."
It went on to add: " The halal blood has been flown in the street of #Dhaka again.Target is down.The Dust will Never Settle Down.#Bangladesh."
The terror outfit claimed that the slain writer "used to live in US for the fear of Muslims" and had come to Dhaka only days ago. It said by killing an American national, the group was able to not only dispense punishment, but also settle scores with the United States for killing "two of our brothers in Khurasan and Shaam".
The guy >>@avijit_roy_MM<< was the target because of his crime against #Islam. Beside His bloody wife. pic.twitter.com/Ciu31csdMU

— Ansar Bangla 7 (@AnsarBn_7) February 27, 2015
Avijit Roy and his blogger-wife Rafida Ahmed Banna were attacked by two people at an intersection near the Dhaka University on Thursday night.
The couple, who was in a rickshaw, was dragged out by the assailants to the footpath and then attacked with machetes.
In the attack, Roy received severe injuries to his head, while Rafida's fingers were chopped off as she tried to shield herself.
Social media has been flooded with images of bloodied Rafida pleading passersby to help her as she stands next to her husband's body on the street.
Roy, 40, is the second Bangladeshi blogger to have been murdered in two years and the fourth writer to have been attacked since 2004.
Freethinker,writer, blogger @avijit_roy_MM Roy died today by Islamists,his wife #Bonya is in critical condition. pic.twitter.com/UVRYKXBTQa — Asif Mohiuddin (@IamAsifM) February 27, 2015