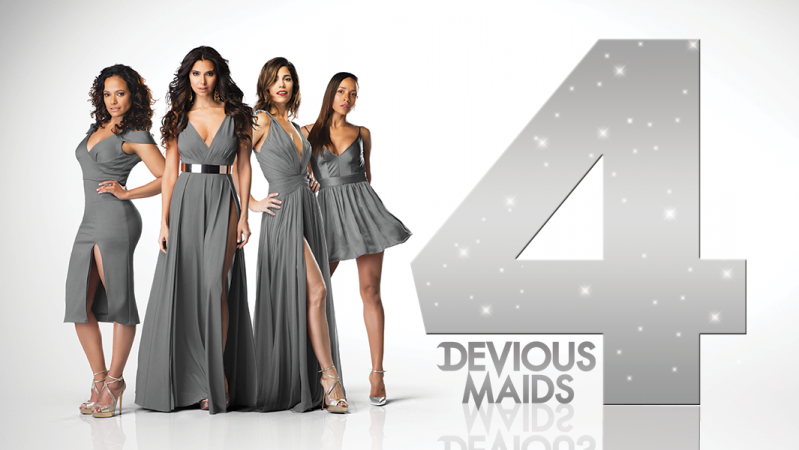 Things have not been going too well for Spence (Grant Show) in Season 4 of "Devious Maids" so far, and things aren't looking too sunny in the upcoming episode either. While he spends his time in prison trying not to get on the bad books of a fellow inmate, his wife Rosie (Dania Ramirez) will be continue trying to prove his innocence.
In the promo for the upcoming Season 4 episode 4 titled "Sweeping With the Enemy," fans will see Spence telling Rosie during her visit that prison is really getting to him. "There's this inmate who keeps watching me," Spence tells her, just as a scary looking man is seen staring at his sleeping body. Making things even scarier is the fact that inmate has "KILL" written on his forehead.
Learning this, Rosie is even more determined to prove Spence's innocence. As fans know, she believes that Ben (Carlos Ponce) is the real killer or at least that he has something to do with it. The upcoming episode will be all about Rosie trying to find clues that would potential get Spence out of prison.
Also Read: Sarah Hyland starrer 'XOXO' is the new Netflix original film to binge-watch
Meanwhile, Marisol (Ana Ortiz) will try to adjust with her clingy new roommate, the freshly poor Evelyn (Rebecca Wisocky). After learning that she is now financially unstable, Evelyn decides to live with Marisol and be chums with the maids.
The official synopsis for Season 4 episode 4 of "Devious Maids" titled "Sweeping With the Enemy" reads: "Marisol deals with a new roommate; an unexpected visitor impacts Daniela and Carmen's relationship; Zoila goes on a blind date; Genevieve makes a new friend; Rosie's suspicions grow stronger."
Watch the promo for the upcoming episode here: