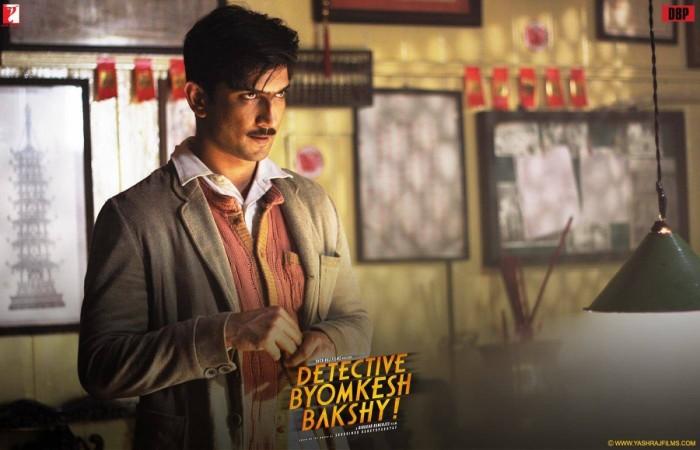 Critics have given thumbs-up to Sushant Singh Rajput starrer crime drama "Detective Byomkesh Bakshy!" Directed by Dibakar Banerjee, the film will release on Good Friday, i.e. on 3 April.
The film is much awaited as it brings back the detective series on the big screen. Sushant, the lead actor of the film, has impressed critics with his performance. Also, the supporting cast has performed exceptionally well, critics said.
The film, produced under Yash Raj Films banner, also features Anand Tiwari and Swastika Mukherjee in pivotal roles.
Read the reviews below:
Sneha May Francis of Emirates 24/7 said: "Sushant Singh Rajput owns Byomkesh, and lends him immense charm. It takes him a while to win us over, but when he does, there's no going back.
"Dibankar's whodunit is wickedly thrilling, and a good start to better things to come."
Manjusha Radhakrishnan of Gulf News was disappointed with the climax of the film. However, she praised Sushant and the supporting cast for their brilliant performances.
"What would have got my vociferous approval is if the ending had lived up to all that promising foreplay. But I wouldn't write this one off entirely. Give Detective Byomkesh Bakshy! a chance."
Rukmini Chopra of BollywoodLife.com said that the director maintains the suspense till the end about the villain.
"I'm truly pleased that a remarkable filmmaker like Dibaker Bannerjee has chosen to make a project as such. Detective Byomkesh Bakshy is every bit as intriguing, thrilling and dark as it can get."
Kusumita Das of Deccan Chronicle said: "There are two kinds of audiences for this film --- those who know Byomkesh and those who don't. Dibakar has a revelation for both. That's one case neatly solved."
Nandini Ramnath of Scroll.in said: "Although Detective Byomkesh Bakshy! works hard on creating a convincing setting for Byomkesh to make his mark, the characters are mostly under-written and the central mystery lacks tension and a sense of imminent danger."