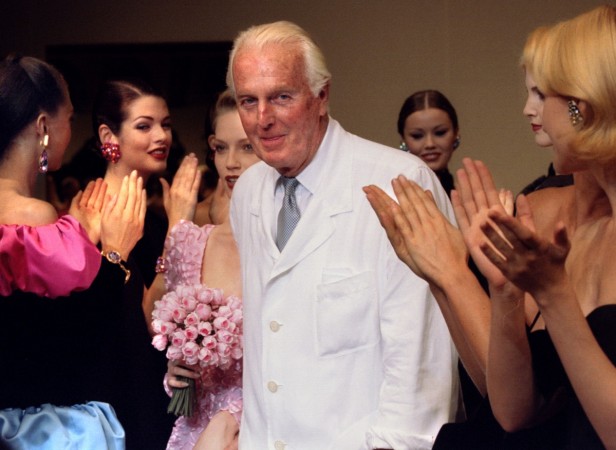 French fashion designer Hubert de Givenchy died Saturday, March 10. He was 91. Givenchy is known for the "little black dress" and styling personalities such as actress Audrey Hepburn and Jackie Kennedy.
His partner Philippe Venet, a former haute courture designer, confirmed the news to the Agence France-Presse. "It is with huge sadness that we inform you that Hubert Taffin de Givenchy has died," he said.
He also added that the designer's nephews and nieces, and their children, are also grieving Givenchy's death.
While he started the luxury fashion house in 1952, and garnered a lot of praise for his designs, he became an overnight star after the film "Breakfast at Tiffany's" hit the screens. The opening scene of the film where Hepburn is seen wearing the iconic "little black dress" is probably what put him on the map.
The actress is known to be fond of Givenchy's designs and once said: "It was... an enormous help to know that I looked the part... Then the rest wasn't so tough anymore. Givenchy's lovely simple clothes [gave me] the feeling of being whoever I played...," reported the BBC.
About Givenchy and his stellar career
Givenchy was born on February 20, 1927, in Beauvais, France.
Givenchy founded his luxury fashion house in 1952 with Les Séparables collection.
He presented the first shirt dress and was the first designer to create a luxury ready-to-wear clothing line, called "Givenchy Université."
Christobal Balenciaga and Givenchy presented their collection in New York during a charity gala.
He is known to be extremely disciplines and someone with impeccable manners.
Givenchy was elected the personality of the year 1979 and the most elegant man of the year by The Best Magazine.
Givenchy joined LVMH Moët Hennessy Louis Vuitton in 1988.
He has dressed celebs such as Elizabeth Taylor, Greta Garbo, Beyonce and Princess Grace of Monaco.
He is also a favourite among several younger actresses such as Emma Stone and Rooney Mara.
Givenchy retired from fashion design in 1995.
Clare Waight Keller has now taken over the creative director of the fashion house
Several people took to Twitter to remember the designer.
Related
You could soon own Audrey Hepburn's personal belongings and her Breakfast at Tiffany's script; here's how
Givenchy to debut children's line in fall 2017