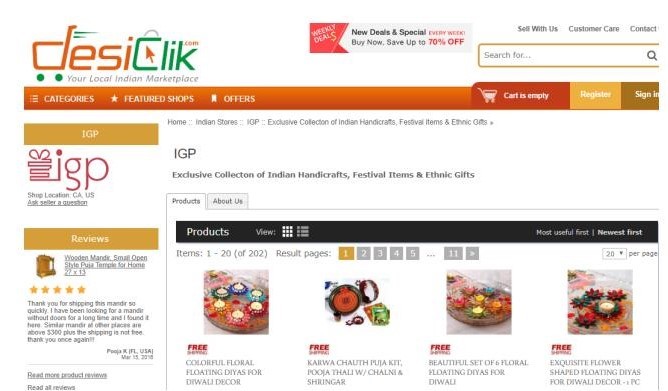 DesiClick is a new platform that is enabling customers in the United States to buy indigenous Indian items in seamless manner. The item can be as small as a pack of garam masala.
The Indian population in the US is growing every year, but not many states and cities in the country have stores for this growing demographic. The firm decided to fill this vacuum with theindiabazaar.com, and subsequently re-branded it as DesiClik.com in 2014.
DesiClik.com is currently one of the largest US-based e-commerce marketplaces specialising in Indian products — ranjing from apparel, jewellery, handicraft, gifts, furniture, grocery, restaurant equipment, religious to even puja items, festive goods and household items.
The firm had reported an annual turnover of $300,000 in 2016, and company executives expect sales to grow manifold in the years to come. The firm is also planning to bring more products in their platform in a move to scale up business.
"...We will be adding full-scale grocery and sporting categories soon. The grocery category can help us bring significant repeat customers on a regular basis. Our plan is to become a household name for the 3 million Indians in the US. This can be achieved by reaching out to our target audience through wise spends on marketing campaigns that include both TV and digital," Deepak Agarwal, co-founder, DesiClik, told International Business Times, India.
Going forward, DesiClik plans to launch a business-to-business (B2B) section which will connect buyers from the US with sellers in India, offering a complete range of B2B solutions.
"This new platform will essentially be a B2B marketplace for business goods and supplies that will help suppliers and exporters in India and businesses in the US to trade with each other," Agarwal said.
Before the vendors comes on board, there will multiple rounds of scrutiny to validate the credibility of the vendor.
"There is a process in place to scrutinize the vendors. We will be interviewing them and reviewing the details about the business and financials before they get listed. One of the reasons we have an annual subscription fee for the vendors is to ensure that we get only genuine vendors on board," explained Agarwal.
Going forward, the firm is planning to expand on a global scale and replicate the DesiClik model in countries with higher Indian population, like Canada, the UK and Australia.
"We are looking for investments to take the business to the next level — both in terms of the B2B platform as well as for our worldwide expansion. We are confident of becoming a $5-million US company in the next five years in terms of annual revenue," said Agarwal.