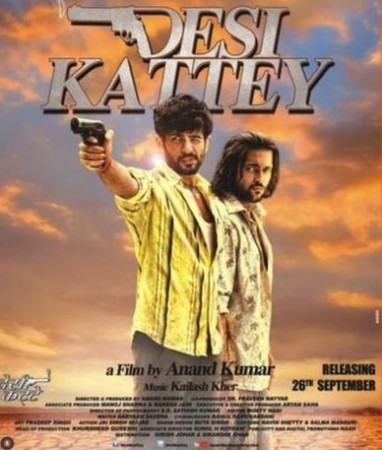 Action drama "Desi Kattey" starring Sunil Shetty, Jay Bhanushali and Akhil Kapur has received negative remarks from critics for its poor storyline, acting and screenplay.
According to critics, Anand Kumar's directorial film is worse than what it was expected to be.
Read the complete reviews below:
Madhureeta Mukherjee of The Times of India said: "This one rips into the heart of the hinterland once again - with homegrown bullets, gundas and of course, other desi toppings (read: item number!). Simply put, it's a convoluted tale of two friends looking down from different sides of the same smoking barrel."
Sweta Kaushal of Hindustan Times criticising the film said that the plot fails to impress and the scripts lacks logic.
"The biggest trouble with Desi Kattey is that it bites too much, far more than it can chew. Everything in it is just random, from the boys' romantic feelings to their reverence to the Judge Sahab. The only thing that takes centrestage is random violence. Nothing about Desi Kattey makes sense anyways."
Shubhra Gupta of The Indian Express gave one star to the film and said that the film is not worth watching.
"The only one who catches the eye is Ashutosh Rana, who has done this kind of role before, but bites into it with relish, regardless. But even he isn't worth the shattered ear-drums."
Shakti Shetty of Mid-Daysaid that the film is neither a memorable film not a forgettable disaster. When it comes to acting only Ashutosh Rana has performed well, rest all the actors including Suniel Shetty have disappointed.
"If you want to watch an action film that depends heavily on drama, go for this one. Or else stick with the likes of Virasat and Satya."
Bollywood Hungama News Network warned audience by saying that it's a strictly an avoidable fare.
"As far as the acting is concerned, the lead boys Jai Bhanushali and the debutant Akhil Kapur seem to suffer due to poor script. All in all, DESI KATTEY is strictly an avoidable fare."