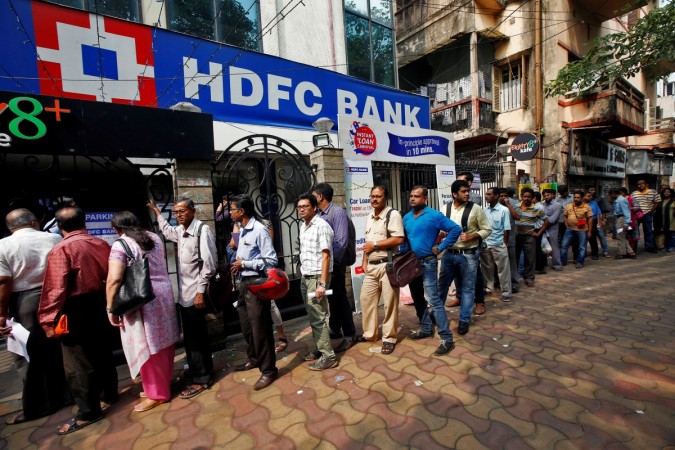 Calculations based on government data suggests that it is unlikely that the government will be able to deliver on Prime Minister Narendra Modi's promise to resolve the cash crunch in fifty days. In fact, the maths, based on capacities of the currency printing presses suggests that it will take six months for normalcy to return and for the new notes to replace the demonetised currency
In an emotional appeal by Modi on Sunday, he requested the citizenry to bear the pain for 50 days. "After that, if any fault is found in my intentions or my actions, I am willing to suffer any punishment given by the country," he had said.
But calculations done by Saumitra Chaudhuri, an economist who advised Manmohan Singh earlier, estimates that the replacement for the stock of now worthless bills will only be re-circulated by May 2017. The reason is due to the limited capacity of the printing presses in the country for such a sudden, huge job.
There are four currency presses -- one each in Nashik (Maharashtra), Dewas (Madhya Pradesh), Salboni (West Bengal) and Mysuru (Karnataka).
The first two are owned by the central government through the Security Printing and Minting Corporation of India Ltd. According to information available in the Finance Ministry's latest annual report, the yearly currency printing capacity of these two presses is around 40 per cent of the total in the country.
The other two presses -- in Salboni and Mysuru -- are part of the Bharatiya Reserve Bank Note Mudran Pvt. Ltd. (BRBNMPL), a wholly-owned subsidiary of the Reserve Bank of India (RBI) that has a stated capacity of just 1.3 billion notes a month. These two, comprising 60 per cent of the total capacity, can print 16 billion notes in two shifts per year, according to information available on BRBNMPL's website.
Modi's move has made about 16.6 billion notes of the 500-denomination, and 6.7 billion Rs1,000 bills worthless. That means more than 23 billion notes totalling Rs15 trillion. Modi intends to replace these with new Rs 2,000 and Rs 500 bills. But calculations suggest that they will not be able to meet the targets
Several months would be needed even if Security Printing & Minting Corporation of India Ltd combines forces with BRBNM.
"Ergo, currency shortages will remain with us for many months and economic contraction will rule this period," he wrote in a blog post on the Economic Times' website "At the end of the period, confidence will be at new lows and recovery will take time."
What's even worse is that due to the pressure to print the new currency, the RBI has completely stopped printing Rs100 notes according to Bloomberg Quint who reported Wednesday citing anonymous central bank sources.
However, Finance ministry spokesman D S Malik rejected the assessment and said "This is not correct, things will improve shortly," he said. "Once supply of Rs 500 and Rs 100 notes increases and re-calibration of ATMs is over, which is underway on a fast pace, the situation will improve to a huge extent."
But according to LiveMint, anonymous ministry's officials admitted that the government is falling far short of meeting requirements for Rs 100 notes.