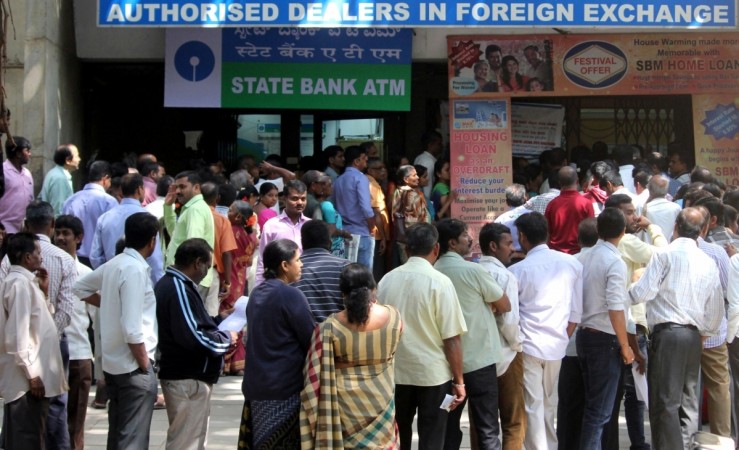 It is quite evident since the Narendra Modi government's move for demonetisation of Rs 1,000 and Rs 500 notes that the common man is more than inconvenienced. People have been duped and some reports suggest that at least five people have died under various circumstances due to the cash crunch.
But the common man should not worry because he is not alone in these hard times. Our politicians and senior government officials too have to stand in serpentine queues to exchange their Rs 1,000 and Rs 500 notes as was evident when Congress vice-president Rahul Gandhi stood outside a State Bank of India branch in New Delhi's Parliamentary Street.
But this also opens up an interesting speculative question -- how much cash do our politicians have to exchange?
Based on their asset declaration at the end of financial year 2015-16, here is a small picture according to Financial Express:
Rahul Gandhi
Bharatiya Janata Party president Amit Shah had earlier alleged that Congress leaders had accumulated Rs 12 lakh crore through corrupt means. Documents show that the declared income of the Congress vice-president at the time of 2014 general elections was around Rs 10 crore.
With a head start over others, Gandhi has exchanged at least Rs 4,000 in cash.
Arun Jaitley
India's richest Union Minister Arun Jaitley has over Rs 72 lakh (according to declarations) mostly cash in hand, presumably in high-value notes. If he roughly holds the same amount, expect him or someone representing him to be standing next to you in the queues.
Sushma Swaraj
External Affairs Minister Sushma Swaraj declared that she, along with her husband, hold Rs 13 lakh in cash.
PM Narendra Modi
Prime Minister Narendra Modi's 2015-16 declarations show that he had Rs 90,000 in cash at the end of last financial year. If the PM still holds an amount somewhere near the same value, you know the drill.