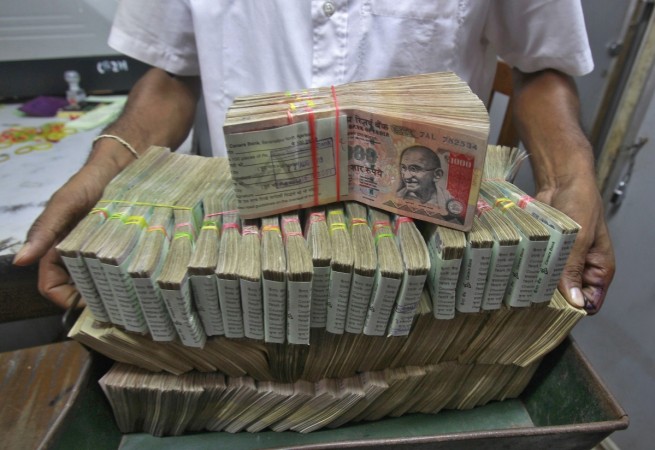 The Reserve Bank of India (RBI) is in the spotlight these days, thanks to the demonetisation of Rs 500 and Rs 1,000 notes by the Central government and the resultant scramble. The central bank is also hogging the limelight over a debate on the timing of the introduction of the Rs 2,000 note.
A look at the RBI's annual report for 2015-16 (July 2015 to June 2016) released on August 29, 2016 sheds light on the volume of currencies that it indented over the years, including the current financial year 2016-17 (April to March).
Curiously, the RBI had given an indent of 2,200 million pieces of Rs 1,000 denomination for the current financial year (2016-17), up 15.78 percent more than 1,900 million pieces in 2015-16.
In sharp contrast, the indent for Rs 500 denomination was up 2.23 percent to 5,725 million pieces for 2016-17 from 5,600 million pieces last financial year. The increase for Rs 100 notes was 2.80 percent. Strangely, the indent for Rs 10 note saw a fall in 2016-17 to 3,000 million pieces from 4,000 million pieces.
The value of bank notes in circulation in 2015-16 shot up by 14.9 percent (Rs 16,415 billion or Rs 16.41 lakh crore) in comparison 11.4 percent in 2014-15, while the volume of bank notes rose 8 percent, down marginally from 8.1 percent in 2014-15.
The domination of high-value notes is obvious from the annual report.
"In value terms, Rs 500 and Rs 1,000 banknotes together accounted for 86.4 per cent of the total value of banknotes in circulation; by volume, Rs 10 and Rs 100 banknotes constituted 53.0 per cent of the total banknotes in circulation," according to the RBI's 2015-16 report.
Coins witnessed a contrarian trend during the period, according to the report.
"The total value of coins in circulation increased by 12.4 per cent in 2015-16 as against 12.1 per cent last year; in volume terms, the increase was 8.2 percent which is marginally higher than that in the previous year (8.0 per cent in 2014-15). In terms of volume, coins of Re 1 and Rs 2 together constituted almost 70 percent of the total coins in circulation. In terms of value, coins of Rs 2 and Rs 5 together accounted for 59 percent."
Bharatiya Reserve Bank Note Mudran Private Limited (BRBNMPL) is a wholly owned subsidiary of the Reserve Bank which runs two banknote printing presses in Mysuru and Salboni. During 2015-16, BRBNMPL produced 14,714 million pieces of bank notes of different denominations as against its annual target of 15,700 million pieces.
The statistics on detection of illegal currency also show that the number of counterfeit Rs 1,000 notes rose to 1,43,099 pieces in 2015-16 from 1,31,190 pieces in the previous fiscal, while the trend for Rs 500 note was just the opposite, declining to 2,61,695 pieces from 2,73,923 in 2014-15.
No hint about new currency note
In its agenda for 2016-17, the RBI made references to many initiatives, but there was no indication of a new denomination likely to be introduced.
"Central banks worldwide adopt a standardised practice of periodic up-gradation of security features of banknotes to stay ahead of counterfeiters. While in India, the last such up-gradation was done in 2005 with a new 2005 series of banknotes, certain new features such as bleed lines and exploding numbers were introduced during 2015-16," the annual report said under the title "Agenda for 2016-17."
"Furthermore, the Government of India approved the procurement of new security features for Indian banknotes," the annual report said under the title "Agenda for 2016-17. The process of procurement of new security features is presently underway while banknotes with new designs are also proposed to be introduced," it added.