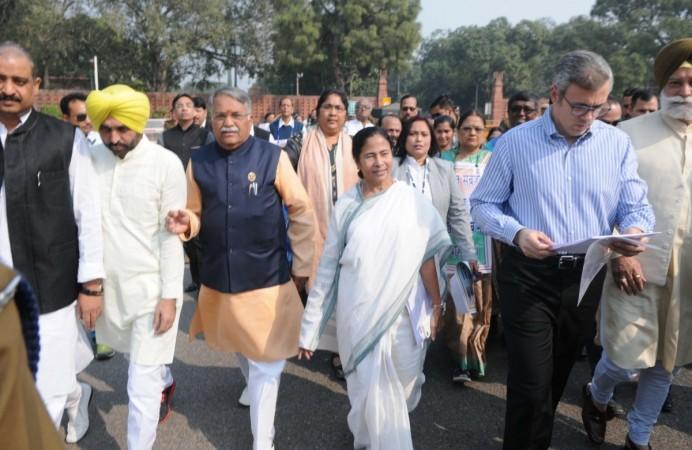 Bengal Chief Minister Mamata Banerjee and her counterpart in Delhi, Arvind Kejriwal, jointly addressed a rally in Delhi's Azadpur Mandi demanding that the central government revoke the ban on currency notes of Rs 500 and Rs 1,000 within three days or they will intensify their protest.
"Earlier it was Rs 4500, now they have reduced the withdrawal limit to Rs 2000. They want to sell this country. They are trying to break the constitution. We cannot allow that... If this decision (demonetisation) is not taken back in 3 days, we will intensify our protest," Banerjee said while addressing the rally comprising farmers, labourers and traders.
She added that the current situation was worse than during the Emergency and said: "If you have courage, send us to jail or shoot us. But we will continue fighting... We will not allow the poor to go hungry. We will continue to fight for this country."
Kejriwal also addressed the rally and said that he would be at the forefront of every fight against black money but demonetising Rs 500 and Rs 1,000 currency notes and introducing Rs 2,000 notes was not the right way to fight this menace.
He also attacked Prime Minister Narendra Modi and Vijay Mallya by saying that Modi helped the latter escape the country and that the businessman was now "sitting and enjoying in London."
"Common people are standing in queues. People's marriages are being broken and there are others killing themselves. Who is responsible for their deaths?" the Delhi CM added.
Banerjee had on Wednesday marched along with a delegation of opposition party leaders to Rashtrapati Bhavan as a sign of protest against the demonetisation move. She submitted a memorandum to President Pranab Mukherjee and sought his intervention on the issue. Former Jammu and Kashmir Chief Minister Omar Abdullah, AAP MP Bhagwant Mann and members of the Shiv Sena also participated in the march.
Kejriwal, however, skipped the Wednesday march.
TMC MPs also moved an adjournment motion in both Houses on Thursday to protest against demonetisation. Congress, TMC and the Left also gave a suspension notice in both Houses.