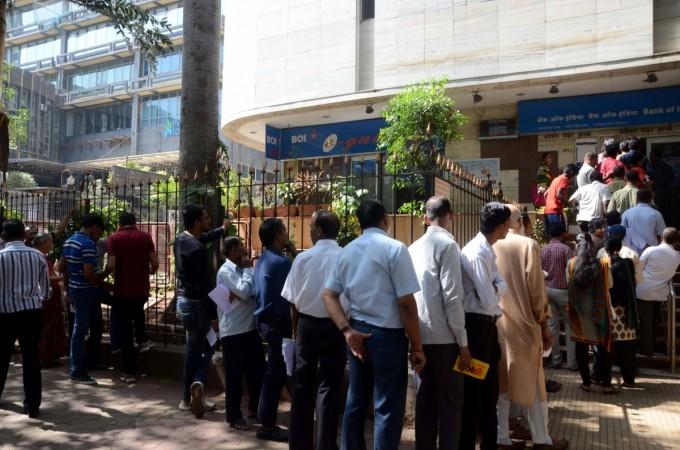 The 50-day window from November 10 to December 30, 2016 given to people for exchanging or deposit demonetised Rs 500 and Rs 1,000 notes saw some individuals make efforts to slip through fake notes.
During the first 18 days (November 10 to 27), 86,621 fake notes of Rs 500 denomination and 53,046 fake notes of Rs 1,000 notes were detected, according to a reply given by the Central government to the Lok Sabha on Friday (December 2).
In value terms, the fake currencies were worth Rs 9.66 crore (Rs 4.33 crore of Rs 500 notes and Rs 5.30 crore of Rs 1,000 notes).
It highlights the extent of desperation among those saddled with the defunct notes and their bid to convert their black money hoard into white by availing of the chaos that normally prevails during such exercises.
Statistics released by the Narendra Modi government during the ongoing winter session of Parliament show the number of such fake notes that were detected by the authorities between November 10 and 27.
The figures also show the value of banned, but genuine notes deposited, exchanged and withdrawn by people during the first 18 days.
The government has claimed that the demonetisation drive was aimed at detecting and destroying fake Indian currency notes that were being used extensively by Maoists and Kashmiri militants to finance terror activities in India.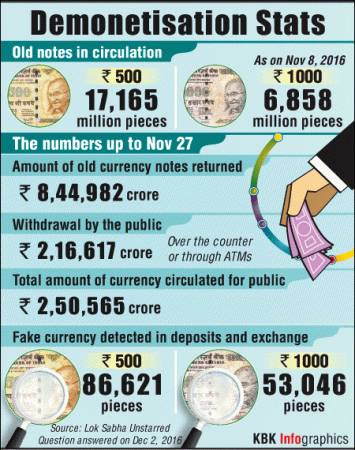 As has already been communicated by the Reserve Bank of India (RBI), the value of defunct notes deposited with banks between November 10 and November 27) was Rs 8,44,982 crore.
'GDP growth rate will grow, not fall'
In defence of the move to render the two denominations invalid, Union Minister Piyush Goyal has said that far from adversely impacting the country's economic growth rate, the move will spur the economy.
"I don't understand the logic of some eminent economists who have been mentioning that GDP would take a hit by the demonetisation. If you are moving the informal economy into the formal economy and if the transactions which for years were never reported as part of GDP are now transacted through banking channels, it will only add to the GDP, not reduce the GDP," Piyush Goyal, Minister for Power, Coal, New and Renewable Energy and Mines, said at an event in New Delhi on Saturday, reports IANS.