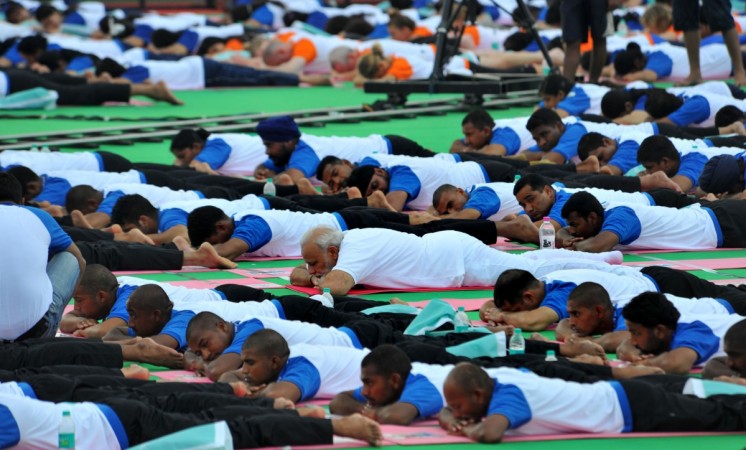 Prime Minister Narendra Modi may be at the centre of the demonetisation debate in Parliament, with his short-duration presence in the Rajya Sabha on Thursday leading to a ruckus. Outside, there are concerns over an economic slowdown and rising instances of money laundering, robbery and the rupee hitting an all-time low. But unfazed about all these, the 66-year-old "prandhan sevak" will be attending the annual conference of India's top police officers and yes, it includes a yoga session.
Modi will be arriving in Hyderabad on Friday and address the DGP conference on Saturday at the Sardar Vallabhbhai Patel National Police Academy.
In addition to cross-border terrorism, cyber crime and police reforms are also on the agenda, according to reports.
Meanwhile, the Supreme Court on Friday decided to hear all demonetisation-related petitions on December 2, including the transfer petition filed by the Central government.
On Thursday, the government in its affidavit had defended its decision to render Rs 500 and Rs 1,000 currency notes as part of its effort to crack down on black money and corruption. The prevalence of these high-denomination currencies was the driving force behind a thriving parallel economy that was hurting the economic growth of the country, according to the affidavit.
The two denominations accounted for about 86 percent of currencies in circulation in value terms.
Black money constituted about 23.2 percent of India's gross domestic product (GDP) and "corrodes and eats into the vitals of the country's economy."
"The gigantic dimensions and possibilities of compromising on secrecy were taken into consideration. If elaborate prior arrangement for distribution of new currency notes were made prior to the announcement of the scheme, the very objective of the scheme would have been defeated," the petition had said, according to PTI.
The demonetisation decision has affected investor sentiments as is reflected in the steady fall in benchmark indices — the BSE Sensex and the NSE Nifty — and could not have come at a more inopportune time for the domestic currency, which plunged to an all-time low of 68.86 to the US dollar on Thursday.
Most emerging market currencies are depreciating as the US dollar is strengthening on hopes of an interest rate hike by the US Federal Reserve after the election of Donald Trump as American president.
"The INR (Indian rupee) sank to a record low of 68.86/USD yesterday, down nearly four percent since November 9. While this movement is in sync with the broad sell-off in Asian and emerging market currencies, the pace of depreciation has been swift," Radhika Rao, economist, group research, DBS Bank said in a note on Friday.