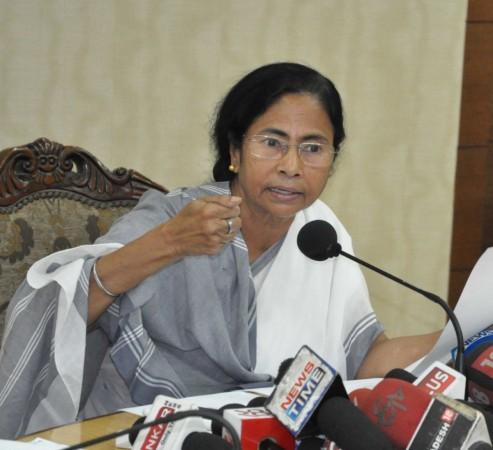 Congress Party's Ghulam Nabi Azad and the Trinamool Congress (TMC) party chief Mamata Banerjee are currently holding a meeting with all the opposition parties to plan ways to take on the Centre's decision of demonetising Rs 500 and Rs 1,000 currency notes ahead of the Parliament's winter session.
Azad called for the meeting of all parties on Monday evening. CPI(M) chief Sitaram Yechury, who has always been at loggerheads with Banerjee, is also expected to attend the meeting. Banerjee had put aside her issues with the Left and reached out to the party for support.
According to NDTV, Trinamool leaders have said that they are trying to gather around 100 lawmakers from the Opposition to lead a protest march from the Parliament to the Rashtrapati Bhawan to protest against the scrapping of the currency notes and demand the government to revoke the ban.
TMC has also asked for all other work to be put aside in the Rajya Sabha, so that there can be a debate on the demonetisation issue.
Yechury had claimed that the government wanted to make gains in the upcoming Uttar Pradesh elections, which is why they decided to demonetise the currency notes. He had reportedly told Banerjee that a few parties had given notices to suspend other businesses and debate this issue in the winter session of the Parliament.
"We would like to see what is going to be government's stand on the issue and based on that, we will decide future steps," Yechury had said.
The parties are likely to discuss the problems faced by the citizens of the country due to the ban on currency notes.
Delhi Chief Minister Arvind Kejriwal had also tweeted that he would be holding an emergency cabinet meeting at his residence around 3 pm. He had also said that the volunteers from the Aam Aadmi Party will help people standing in long queues fill up bank forms from Wednesday.
Bahujan Samaj Party leader Mayawati too lashed out at the Modi government and said: "In the name of demonetisation, the common people are being made to suffer," she said. Our party wants all measures against black money and corruption, but the Modi government, in the guise of cracking down on black money, is getting the public out in the baking sun, standing in queues while true black money offenders, Vijay Mallya, Lalit Modi are out of the country."
Meanwhile, Prime Minister Narendra Modi-led government has called for an all-party meeting on Tuesday to chalk out the agenda for the winter session since it will have to debate the demonetisation issue in Parliament. The government wants to make sure there is minimum disruption during the session. It also needs support to pass two bills related to the Goods and Services Tax that it hopes to implement by April 1, 2017.
#WATCH Congress, TMC, RJD, JD(U),JMM, CPI, CPI(M) and other opposition parties hold meeting ahead of Parliament winter session pic.twitter.com/RF11sl2jzV

— ANI (@ANI_news) November 14, 2016
#InsideVisuals Congress, TMC, RJD, JD(U),JMM, CPI, CPI(M) and other opposition parties hold meeting ahead of Parliament winter session pic.twitter.com/icDe6hZ2kr — ANI (@ANI_news) November 14, 2016