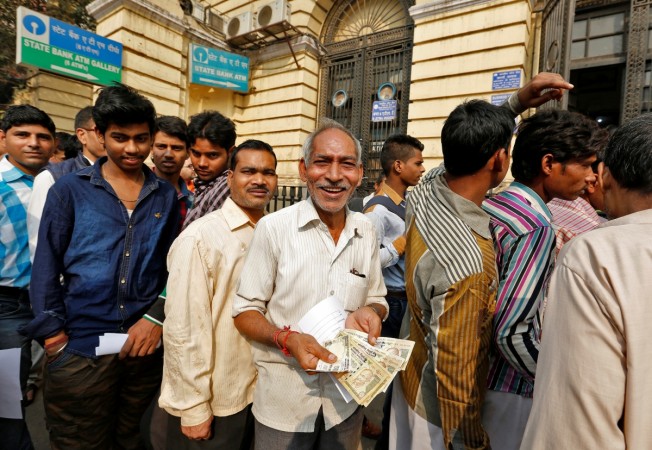 The buzz on whether the demonetisation drive was successful or not continues to occupy centrestage and crucial to the debate is the estimated amount not returned to the banking system. A member of the government's think-tank Niti Aayog has pegged it at about Rs 1.6 lakh crore, while a news channel reported that black money to the tune of Rs 3-4 lakh crore has found its way to bank accounts and is now under scrutiny by income tax authorities.
"Even now, Rs 1.6 lakh crore is what will be missing at the end of it all. Those are the figures. If I take a base of roughly rounding off demonetised currency around Rs 16 lakh crore, 10 per cent of it is about Rs 1.6 lakh crore," Bibek Debroy, member of Niti Aayog, was quoted as saying by the IANS.
"There is still a gap. People have made estimates that may be 10 per cent will not come back," he added.
News18 reported that "evaded income" in the range of about Rs 3 to 4 lakh crore have been deposited in bank accounts and said that the Modi government, on that basis, is claiming that the note ban exercise was a success.
The unreturned notes, which would effectively constitute the gain from the disruptive exercise that began on November 8 with the announcement by Modi, would first accrue to the RBI as extinguished liability and would be passed on as "fiscal dividend," according to economists.
A few days ago, speculations were rife that the notes that have come back to the banking system constituted about 97 percent of the Rs 500 and Rs 1,000 currency notes that were in circulation. The RBI was quick to issue a statement on the same.
"We would like to clarify that the periodical SBN figures released by us were based on aggregation of accounting entries done at the large no of Currency Chests all over the country. Now that the Scheme has come to an end on December 30, 2016, these figures would need to be reconciled with the physical cash balances to eliminate accounting errors/ possible double counts etc.
"RBI has already initiated this process and till this is completed any estimate may not indicate the actual numbers of the SBNs that have been returned. RBI is taking all steps to complete the process expeditiously so as to release firm figures of SBNs received at an early date," the central bank said on January 5, 2017.
Rs 3-4 lakh cr of evaded income deposited in banks post #demonetisation; #Income Tax dept scrutinising details: official.

— Press Trust of India (@PTI_News) January 10, 2017
Rs 3-4 lakh crore of evaded income deposited in banks post #DeMonetisation; more than Rs 2 lakh deposited in over 60 lakh bank accounts

— Doordarshan News (@DDNewsLive) January 10, 2017