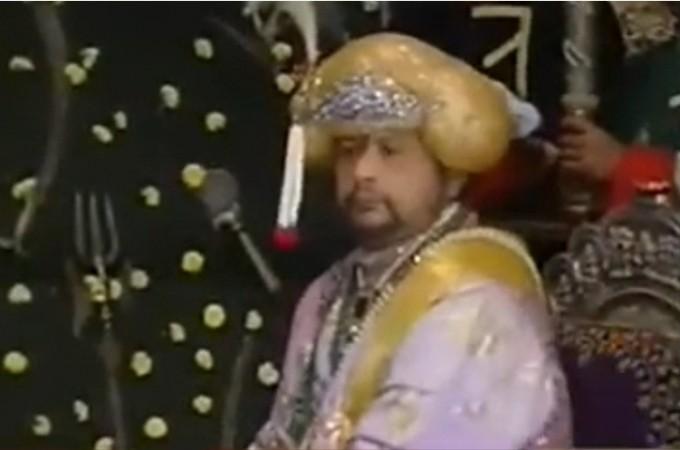 The bustling touristy South Indian city of Mysore came to a standstill, following the sudden demise of its 'King'. The entire state of Karnataka has gone into a two-day mourning declared by the State government as a mark of respect to Maharaja Srikantadatta Narasimharaja Wodeyar, who died of a cardiac arrest. He was 60.
Maharaja Srikantadatta was the last scion of the Wodeyar dynasty and a popular prince. The state government has announced that his body will be given a state funeral befitting his royal stature.
The Mysore scion's final rites will be held at 'Manuvana', the royal cremation grounds on the outskirts of Mysore, on Wednesday afternoon.
As the news of Wodeyar's death spread across the country, several people, including ministers, political leaders, former cricketers, and film stars are gathering to participate in his final rites.
Even as the era of the Kings is long over, people in this South Indian state respected the former ruler for the developments they brought in, in the state. It was under the Wodeyars that Bangalore became India's first city to be electrified in 1905; they were intrumental in creating one of the largest reservoirs of Asia - the KRS dam. In Mysore, the royal capital, the Amba Vilas Palace of the Wodeyars was shut for tourists. Shops and markets were also closed and an eerie silence has gripped the city of palaces.
Several tributes have been flowing in for Maharaja Srikantadatta Narasimharaja Wodeyar Bahadur. An IB Times reader, Pushpa Mayanna Goudaru said, " It is really sad. I grew up believing in democracy and I always believed the rule by king or official leader is outdated. But I enjoyed watching the traditions followed in our King's palace and listening to the stories of courageous Wodeyars who are also great patrons of art and music and have contributed significantly to make Mysore a cultural centre. We surely miss him in palace and on Vijayadashami, the traditional Dasara procession. It is difficult to believe this. The King is No More. May his soul rest in peace."
Mohandas Pai, Former CFO & Head-HR, Infosys in his tweet message said, "Folks, please pay your tributes to Srikanta Wodeyar, the last of the Mysore Maharajahs, great rulers, compassionate, made a model state."
As the 26th descendant of the six centuries old Woodier dynasty, Srikantadatta was the only son of the last Mysore Maharaja (king) Jayachamarajendra and Tripurasundaramanni.