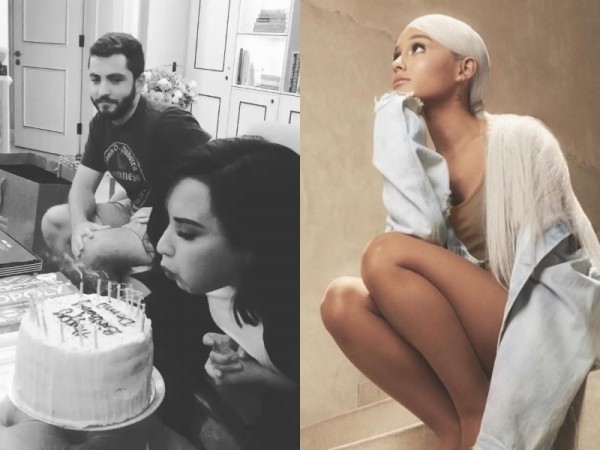 Demi Lovato's birthday celebrations were kicked off on the right note! The singer, Grande, who started her Sweetener tour from London, recorded an adorable birthday video for Lovato.
The Sorry Not Sorry singer did share the video on her Instagram and wrote, "This was too sweet not to post... before show prayer they did this for my bday," and added, "I'm so proud of you @arianagrande. You f—— killed that!! I love you tons." Ahead of Ariana going up on the stage, she shared a warm hug with the birthday girl.
This comes a year after her dire overdose. A source told People, "Demi is in a great place in her life. She is spending her birthday in London and working on new music and other projects."
As she is successfully heading forward in the path of health and mind wellbeing, the source has further revealed that she is practising Jiu-Jitsu. Ahead of her birthday, Lovato also shared a mirror selfie of herself captioning it as, "Last day as 26".
In a plain white ribbed crop top and black leather jacket, Lovato certainly looks very healthy and happy. "They literally filmed/sang happy birthday twice and @scotterbraun STILL forgot to press record @arianagrande's face is everything," Lovato said in the video and added, "This video is a perfect glimpse of how f—— happy and rad my birthday is this year. So so happy. and I love my new family. Thank you guys, love you ."
Ever since the overdose incident, Lovato has grown pretty tight with her close-knit circle of friends and family. "Demi is very close to her family," a source previously told People. "She often stays at her mom [Dianna De La Garza's]. She attended [Madison's] high school graduation in June. Spending time with her family always seems very important to her." The source continued, "[She] is surrounding herself with a small group of friends. You can tell that everyone is very protective of her."
Lovato, who has battled addiction, mental illness and eating disorders, had taken to social media to break her silence on all the darkness that surrounded her during her tough year. "I have always been transparent about my journey with addiction. What I've learned is that this illness is not something that disappears or fades with time. It is something I must continue to overcome and have not done yet," Lovato wrote. "I want to thank God for keeping me alive and well."
The singer concluded by saying, "I now need time to heal and focus on my sobriety and road to recovery. The love you have all shown me will never be forgotten and I look forward to the day where I can say I came out on the other side. I will keep fighting."
Although it was reported back in February that she has relapsed and returned to the rehabilitation facility, a source close to Lovato refuted the rumours. Currently, as she turns 27, Lovato is religiously focussing on staying healthy and working on her upcoming album.