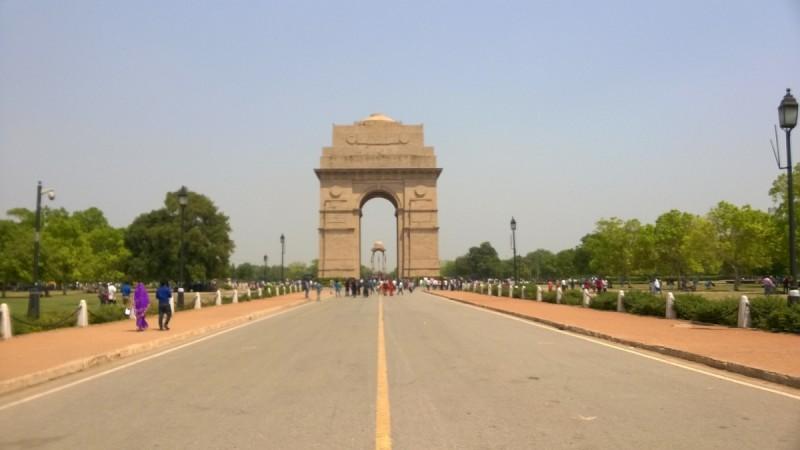 A road near India Gate leading towards Ashoka Road caved in following incessant rains in New Delhi on Thursday morning, leading to a disrupted traffic in the area. Reports state that the area has now been cordoned off.
Monsoons have hit Delhi hard, resulting in flooded streets and traffic jams across the city. Heavy rains continued in the city for the second consecutive day, causing waterlogging in several locations. According to the Meteorological Department, Delhi received 63mm of rainfall within three hours on Wednesday.
"The road from the India Gate towards the Ashoka Road, in front of bungalow number 14, Windsor Place, has caved in due to incessant rain, disrupting traffic on that route," Joint Commissioner of Police (Traffic) Garima Bhatnagar was quoted as saying by PTI.
"The area has now been cordoned off and the traffic diverted. NDMC workers are repairing the road and vehicular movement will be slow around the area till the work is done," she added.
Reports state that due to the caved-in road near India Gate, traffic was slow near Dhaula Kuan, ITO, Madhuban Chowk, Sarai Kale Khan, Mayapuri flyover, Ridge Road and Nizamuddin area. Vehicular movement was also affected by the rains in many areas because of waterlogging, which resulted in vehicles breaking down.
The incessant rains in Delhi also prompted the visiting United States Secretary of State John Kerry to cancel his plans to visits some religious sites in Delhi, including Jama Masjid, the Sisganj Gurudwara, and the Gauri Shankar temple.