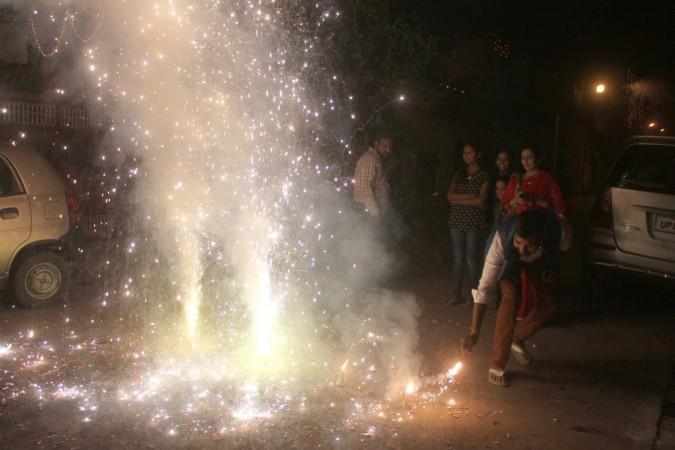 In a first-ever case, a man in his late 30s has been booked in New Delhi for allegedly violating the Supreme Court order on firecrackers.
The man identified as Damandeep, a resident of Mayur Vihar Phase 3, was nabbed by police following a complaint from neighbours. The accused did not stop bursting crackers even after the repeated requests from neighbours following which they informed the police. The incident took place on November 1.
He was bursting "Bijli bombs", a police officer was quoted as saying by news agency PTI.
The matter is now under investigation on how he managed to get the fire crackers despite a Supreme Court ban on their sale.
The forensic analysis of burnt firecrackers confirmed that they were old. Damandeep, who works at a private firm in Noida, reportedly bought them last year. He was booked under section 188 of IPC and was later bailed out.
In another development, police seized one and a half quintal of banned firecrackers from the house of a dealer in New Ashok Nagar area, identified as Monu, reports the Times of India.
A case under Section of disobedience of public order and under the Explosive Act has been slapped against him.
In view of poor air quality in Delhi-NCR region, the Supreme Court on October 23 ruled that only green firecrackers would be sold during the festival season.
Crop stubble burning in Punjab and Haryana during the onset of winter season has been a major factor that worsens atmosphere in Delhi-NCR. Air pollution level goes high in the region post Diwali due to bursting of firecrackers on the occasion. Poor quality raw materials used in firecrackers are the major contributor of particulate matter pollution.
The green firecrackers developed by the Council of Scientific and Industrial Research (CSIR) is yet to go available in the market as they have not received safety approvals yet.
According to CSIR release, these green crackers named as safe water releaser (SWAS), safe minimal aluminium (SAFAL) and safe thermite cracker (STAR), are not only environment-friendly but cheaper than the conventional ones.
In recent days, the air quality index in parts of Delhi crossed 300 and according to the Central Pollution Control Board (CPCB) anything above 100 is considered unhealthy by the Central Pollution Control Board (CPCB).