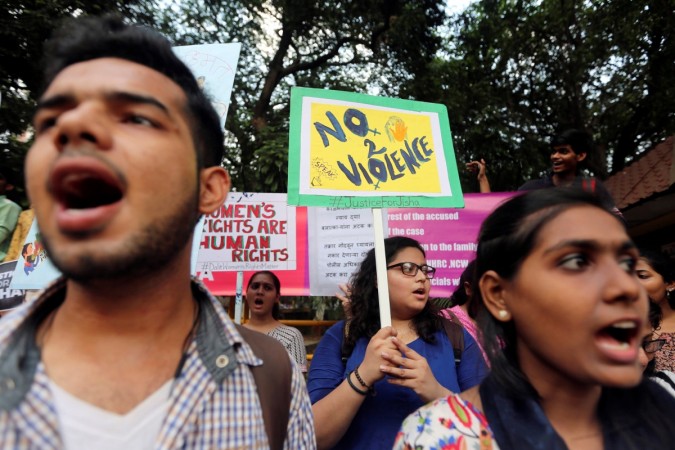 The two girls who were gangraped in New Delhi's Aman Vihar have alleged that the male friends who were accompanying them sat by while five other men assaulted them. The two boys reportedly did not come forward to help when the girls were attacked.
On Wednesday, the two girls, aged 18 and 17, were sitting in a government park with two male friends when the five other men misbehaved with them. When the girls tried to leave, they were overpowered and attacked. The two male companions of the girls did not intervene, the police said.
"We expected them to intervene and save us. We kept shouting for help but they did nothing," the teenagers told the police, according to the Hindustan Times.
The police arrested four suspects, including two juveniles. One of the older suspects, however, managed to escape. The police is on the lookout for the fifth person.
"We have mounted technical surveillance on the fifth youth and are trying to trace his location. We have sought help from the local intelligence. Three teams have been sent to different directions to raid his possible hideouts. The probe is on and arrest will soon be made," an investigator said. "While one of the accused is pursuing graduation through distance learning, the others are unemployed," he added.
Two of the accused were identified as Manish and Shivam, both 19 years old.
The five accused reportedly slapped the male friends, one of whom has refused to give his statement, and dragged the girls into a darker corner to assault them. The girls had fainted from exhaustion after the five gangraped them. The girls made the call to the PCR van after they regained consciousness.
This is not the first time that heinous crimes were committed at Kirari, near the Mundka Metro Station, where the incident took place. An 8-year-old was earlier kidnapped and raped, and the body of a woman was also found inside a sack.
Local residents have asked for installation of street lights, but their requests have gone unheeded. The area also does not have a police station.
"People have to walk at least 10 kilometres to Bawana, where the Aman Vihar police station for Kirari residents is located. There is no police patrolling and not even a single security camera has been installed till date," Congress leader Pratyush Kanth was quoted as saying by Hindustan Times.