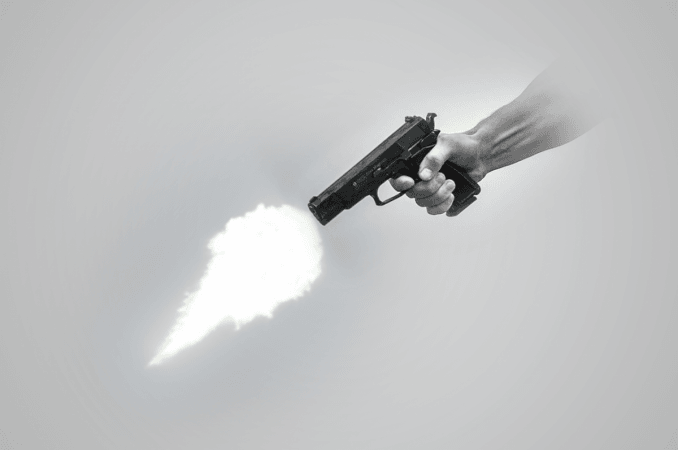 It might be the seat of the Indian government but Delhi has become infamous as the hotbed for crime in India. From petty crimes to gang rapes and shootouts, NCR witnesses its share of violence and terror. More notably, crime gangs continue to thrive in the region.
As the National Capital Region - Delhi, Noida and Gurugram - began expanding into the suburbs, gangsters started thriving on extortion, land grabbing and criminal intimidation relating to real estate deals. But now, with local gangs asserting dominance in the region, looks like the problem is far from over.
Local gangs in Delhi have expanded their operation into new areas with different gangs having expertise in every kind of crime including petty theft, running a protection racket, armed robbery, car-jacking, contract killing and kidnapping.
Many gangs are quite active in the trans-Yamuna area in East Delhi. In the recent past, the area witnessed the escalation of rivalry between the Abdul Naseer and Chennu Pehelwan gangs after a shootout at Karkardooma in late 2017, killing a cop.
Gangsters monopolizing crime in NCR
A while later, three murders rocked East Delhi. In two of the incidents, criminals fired 60 bullets. This was a cause for concern because the Delhi police had never come across such an extensive use of firepower before.
Another alarming factor for the cops is that many gang leaders continue to run their gangs even from behind bars.
With gangsters unleashing violence unabated in the city, the Delhi police brought in the dreaded Maharashtra Control of Organised Crime Act (MCOCA) in 2006. But this attempt to try and contain gang rivalries has hardly made a difference.
Here are a few instances that stand testament to that:
As recently as June 18, there was a major shootout when members of a gang fired at their rivals in North Delhi's Burari, killing three, including a woman passerby, and injured five.
The police say the incident is the result of rivalry between the Tillu Tajpur and Jitendra Gogoi gangs.
On June 12, Special Cell of the Delhi Police shot and injured Kishanpal, one of UP's top gangsters, in an encounter in Greater Noida (West). Kishanpal was wanted for eight murders and carried a reward of Rs 1 lakh.
He was so brutal that he inserted his fingers into the body of his victims to check the extent of the wounds. He was associated with Chhenu-Afsar gang of Delhi.
On June 9, police managed to corner and shoot dead Rajesh Bharti, one of Delhi's most wanted criminals. Three of his associates were also gunned down in the encounter in south Delhi's Chhatarpur.
Bharti, who was from Jind (Haryana), led the 'Kranti gang' and was involved in numerous murder, abduction and extortion cases and carried a reward of Rs 1 lakh.
In March, Shravan Chaudhury, a 32-year-old gangster wanted by the police in several cases of murder was shot dead in an encounter in Noida. When police asked the gangster and his accomplice to surrender, the gangster opened fire with an AK-47 assault rifle. In the ensuing encounter, he was shot dead.
Shravan was wanted in 14 cases of murder, abduction, loot and vehicle thefts. His gang used to snatch SUVs and sell them in Naxal-infested areas.
Notable gangs of Delhi
Neeraj Bawana Gang
Neeraj Bawana is serving prison term for murder, attempt to murder, robbery and extortion. There was a reward of Rs 1 lakh on the gangster when he was arrested in 2015. Bawana's gang consists of nearly 100 members, and despite several gang members having landed behind bars, the gang continues to operate.
MM Gang
According to police, Manoj Mokheri, head of the MM Gang, started off with petty crimes like snatching, but once he formed his own gang, Mokheri was involved in more serious crime like armed robbery, extortion and murder. Behind bars since 2013, he continues to run his gang.
Sandeep Chitania Gang
One of the most notorious and dreaded gangsters in the city, Sandeep Chitania was wanted for murder and extortion. He was shot dead after he escaped from police custody but the gang still uses his name to run operations.
Vikas Langarpuria Gang
Vikas Langarpuria, a resident of Jhajjar in Haryana, and a Delhi University dropout is lodged in Tihar Jail since June 2015. However, his gang is fully functional and specializes in land grabbing.
Chennu Pehelwan Gang
Chennu Pehelwan Gang specializes in land grabbing, gambling, extortion and robbery. The gang has a bitter rivalry with Abdul Naseer gang and seven members from each side have been killed in gang wars. Though Chennu has been behind bars since 2012, his gang continues to operate with impunity.
Crime in Delhi is nothing new. It has been discussed, debated and vehemently protested. Some might even say that Delhiites have spunk as a defence owing to the environment that's a thriving hotbed for crime.