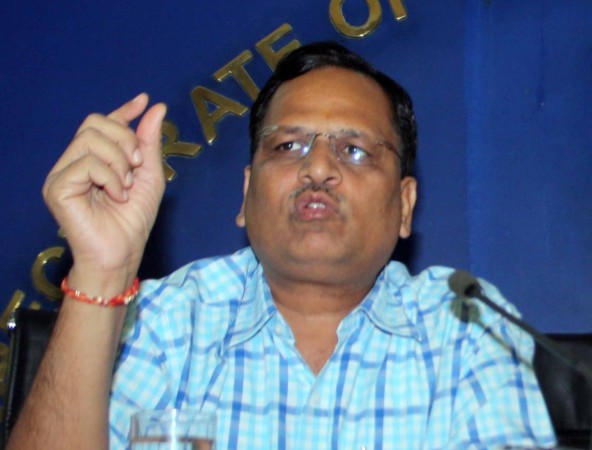 Delhi Health Minister Satyendra Jain on Thursday said that one cannot die from chikungunya, and added that this information is available on Google and is not his personal opinion.
Delhi has been reeling under chikungunya, with death toll reaching six from complications arising from the vector-borne disease. The capital has reported more than 1,000 cases of the disease this year. The toll has been steadily increasing, but Delhi's Aam Aadmi Party government and the Bharatiya Janata Party-led municipal corporations are busy playing the blame game.
Jain said that the residents of Delhi do not need to panic and that all they need to do is take the necessary precautions and visit the hospital if they experience any symptom of chikungunya.
"People of Delhi have no need to panic. The state government is ready to provide help at all cost. But one should get admitted only if the doctor advises them to do so and not because they are scared," he said.
Jain also said that the deaths due to the disease are suspicious, as four out of the six cases said to be related to chikungunya have been reported from the same hospital.
"Chikungunya deaths are not happening across the world. Why is it only in a select few Delhi hospitals? And upon enquiry, I have discovered that most of the deaths are of people who were aged and already sick with other ailments," Jain added.
After the sixth death due to chikungunya in the national capital, Union Health Minister JP Nadda called an urgent meeting of the health ministry. Nadda said that there was no need to panic as there are sufficient medicines and testing facilities available to handle the outbreak. He also added that the Centre is fully prepared to handle the crisis.
"We today held a review meeting in regard with the upsurge of vector borne diseases. In Delhi, an increase in cases of Chikungunya has been reported, and meanwhile, large number of cases of fever has been reported. In West Bengal, Odisha and Karnataka, cases of dengue have been reported. In West Bengal, cases of malaria have been reported," Nadda said.
Chikungunya is not a life-threatening disease in general, but in certain cases it can lead to complications that prove fatal, especially in children and old persons.
According to the National Vector Borne Disease Control Programme (NVBDCP), around 12,255 cases of chikungunya were reported across the country until Aug. 31. Karnataka recorded 8,941 cases, followed by Maharashtra (839) and Andhra Pradesh (492).