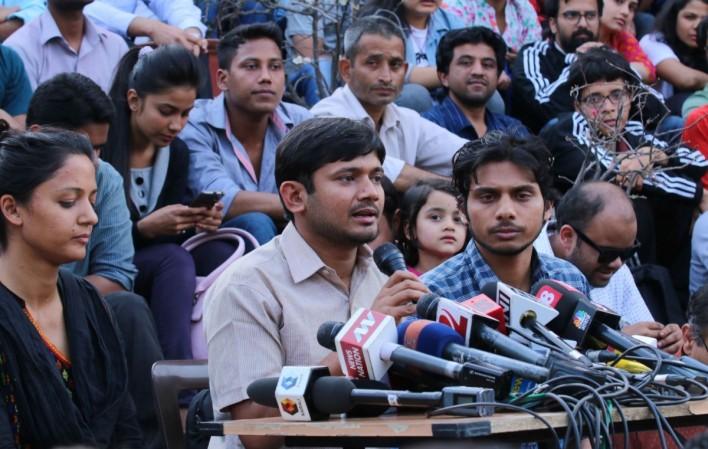 The Delhi High Court on Wednesday directed the Jawaharlal Nehru University (JNU) not to take any coercive steps against Kanhaiya Kumar until Friday, July 20. The former JNU Students Union (JNUSU) leader was fined by a university panel in connection with a 2016 incident when anti-India slogans were allegedly raised at a student rally.
Justice Rekha Palli's order came while hearing Kumar's plea challenging the university's order which has imposed a fine against him. As the bench of Justice Siddharth Mridul was on leave, Justice Palli deferred the matter till Friday.
Kumar's plea, filed through advocates Tarannum Cheema and Harsh Bora, has sought quashing of the order passed by JNU through its Chief Proctor on July 4. The university had held Kumar guilty under clause 3 of Rules of Discipline and Proper Conduct of Students of JNU and imposed a fine of Rs 10,000 on him.
Clause 3 deals with any act which may be considered by the Vice-Chancellor or any other competent authority to be an act of violation of discipline and conduct. The order was issued based on the report by a high-level inquiry committee that was set up on February 11, 2016.
In his plea, Kanhaiya Kumar said that there were serious lapses towards observing the principles of natural justice and expressed violation of the directions issued by the Delhi High Court on October 12, 2017.
Kumar also told the court that no written notice was provided to him and that they were not allowed to cross-examine the two witnesses who deposed against him. He sought a stay of the July 4 order and an exemption from fine till the disposal of his present petition.
An inquiry found student-activist Umar Khalid, along with Kumar and Anirban Bhattacharya, guilty in the February 2016 episode in which a group of young men allegedly raised "anti-national" slogans.
It had also recommended rustication of Umar Khalid apart from imposing a financial penalty on 13 other students for violation of disciplinary norms. Kumar, who is also a member of the student wing of Communist Party of India, was the president of the varsity's student union in 2016.
The three were accused - though none yet charge-sheeted by the police - of raising slogans against the integrity of India during a poetry-reading with students at Sabarmati Dhaba inside the JNU campus on February 9, 2016.