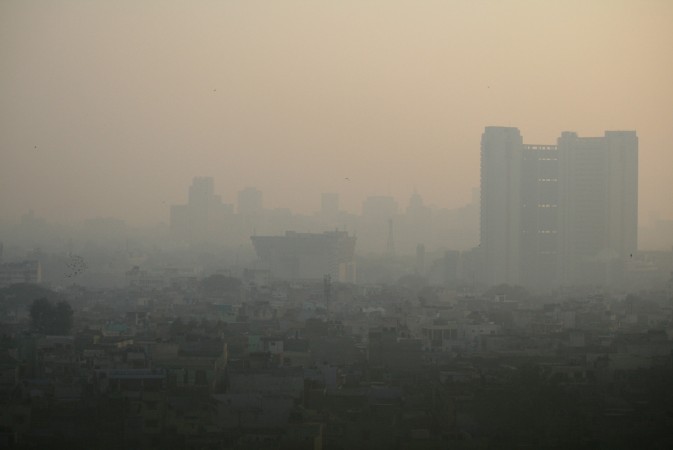 Delhi's air pollution may be killing as many as 30,000 people each year, while globally, 3.2 million deaths are attributed to ambient fine particulate matter (PM2.5) annually.
Air pollution has become one of the biggest killers in the world, claiming more lives globally than HIV/AIDS and Malaria combined.
The mortality rate (deaths per 100,000 people per year) from prolonged exposure to PM2.5 is the highest in Asia, and rough estimates show that as many as 30,000 people in Delhi may be dying prematurely from air pollution each year, an author of a recent study published in the Environmental Science and Technology journal told IBT India.
That translates to a grave 82 deaths in Delhi every day from exposure to PM2.5.
The study, titled 'Addressing Global Mortality from Ambient PM2.5', highlights the urgent need to reduce ambient PM2.5 to bring down the mortality rate globally.
One of the authors of the study, Joshua Apte, told IBT India over e-mail that unless a multipronged, urgent approach was taken to reduce ambient PM2.5 in Delhi, the health impacts of air pollution will continue to increase.
Delhi's PM2.5 concentrations are currently between 120-150 µg/m3 on an annual average, which has become a significant factor behind premature deaths in the country's capital.
"To estimate mortality from PM2.5 in Delhi, we combined local data for Delhi's PM2.5 concentrations and population with regional South Asian data from our model. In doing so, we estimate that somewhere between 10,000 and 30,000 deaths occur each year in Delhi due to PM2.5," Apte said.
He, however, warned that this city-specific estimate for Delhi is an uncertain extrapolation from the study model.
"The broad range reflects the uncertainty that comes from extrapolating a large-scale regional model to an individual city," he explained.
Prolonged exposure to ambient fine particulate matter air pollution (PM2.5) has been linked to premature deaths from causes such as heart disease, stroke, respiratory diseases, and lung cancer, while children under the age of 5 can suffer from acute respiratory lung infection.
Delhi will have to drastically bring down its PM2.5 level to reverse the trend and reduce the mortality rate.
"Even low levels of PM2.5 can have important health effects, (and thus) major reductions will be needed for cities like Delhi to see a substantial reduction in the health effects from PM. For a city like, Delhi, going from 150 µg/m3 to 40 µg/m3 would reduce mortality from PM2.5 by about 45%. Going from 150 µg/m3 to 10 µg/m3 would reduce mortality from PM2.5 by about 85%," Apte said.
Apte, who is from the Department of Civil, Architectural and Environmental Engineering at the University of Texas, has said that isolated solutions, such as banning old vehicles in Delhi, need to be considered as part of a larger plan for clean air.
"All control options need to be on the table, since no one single policy or control strategy can solve the problem alone. In Delhi's current debate about clean air, the conversation often becomes about 'should we start by banning old diesel vehicles, or mandate tighter emission norms for new vehicles, or perhaps do something about trash burning?'. In reality, all such options would need to be implemented (and many others too) in order to truly reduce the health impacts from PM2.5," he said.
The study calls for significant improvements in air quality in order to reduce mortality from PM2.5 in polluted regions by as much as 1.4 million lives in China and India alone.
Asia, given its population and polluted cities, accounts for 72 percent of total mortality attributable to PM2.5, according to the study.
"The concentration of premature mortality attributable to PM2.5 is highest in Asia, owing to the interaction of high population density, high disease prevalence, and high levels of PM2.5 in these areas," the study says.
Average PM2.5 level would need to decline by ∼20–30 percent over the next 15 years just to ensure there is no increase in the mortality rate from the current standard, the study warns.