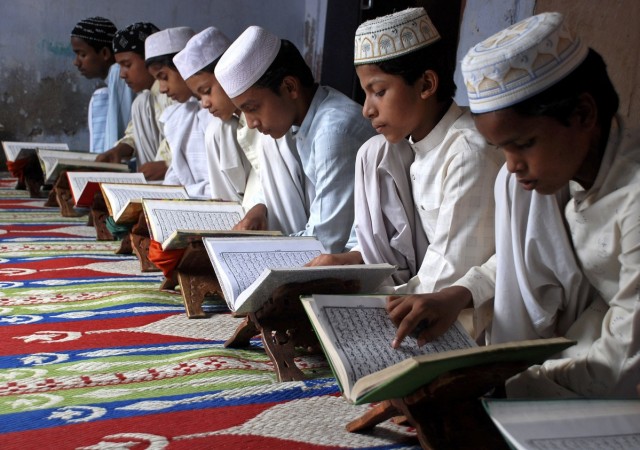 Update: 1.04 p.m. IST — Five people were arrested Wednesday for assaulting three students of a Madrasa in Delhi's Begumpur area. They have been charged under Sections 323, 325, 506, 341, 34, 36 of the Indian Penal Code, ANI reported.
They are being charged for causing hurt, criminal discrimination, wrongful restraining among others.
Original Story — Three students of a Madrasa in outer Delhi's Begumpur area were beaten up Saturday for refusing to chant "Bharat mata ki jai." An FIR was registered Tuesday, but no arrests have been made yet.
Dilkash, Ajmal and Naeem were taking a stroll in a park near their Madrasa, an Islamic educational institute, when five people asked them to chant slogans like "Bharat mata ki jai." According to the Hindustan Times, Dilkash told the police that when they refused to abide by their demands, the men hit and abused the trio.
Two of the attackers have been identified as Pintu and Sahil, who live in the neighbourhood, the Times of India reported.
The debate on chanting slogans like "Bharat mata ki jai" has been going on for a while now.
Rashtriya Swayamsevak Sangh (RSS) chief Mohan Bhagwat had said that the new generation should be asked to chant "Bharat mata ki jai." All India Majlis-e-Ittehadul Muslimeen (AIMIM) leader Asaduddin Owaisi in the Rajya Sabha had questioned Bhagwat's earlier statement while refusing to chant the slogan.
However, Bhagwat said Monday that nobody should be forced to say "Bharat mata ki jai." Earlier, AIMIM MLA from Mumbai Waris Pathan was suspended March 16, 2016, from the Maharashtra Assembly for refusing to chant the same.
"We have to create so great an India that people will themselves say Bharat Mata ki Jai. We don't need to force it on anybody. We have to give direction to the world with our life. There is no need to force our system and thoughts on anyone; there should be a desire to consider the whole world as ours," Bhagwat was quoted as saying by Firstpost.
Meanwhile, Finance Minister Arun Jaitley, after the Bharatiya Janata Party's national executive meeting earlier this month, was quoted as saying by the Indian Express that not chanting the slogan was "tantamount to disrespect to our Constitution itself."
A Muslim seminary, on the other hand, issued a fatwa March 18, 2016, against the slogan arguing that it was against Islam and logic.