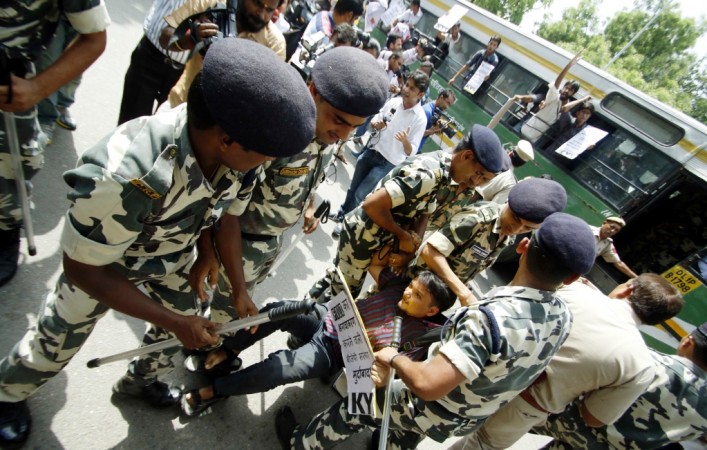 The Delhi Police on Friday detained hundreds of students protesting the appointment of actor and BJP member Gajendra Chauhan as the chairman of Film and Television Institute of India (FTII).
Apart from the students from FTII, many others from Jawaharlal Nehru University, Delhi University and Delhi Technological University also joined the protest against the appointment of Chauhan, best known for his portrayal of the eldest of the five Pandava brothers - Yudhishthira - in the Mahabharat.
According to reports, more than 200 protesters were taken into "preventive custody" while holding a demonstration outside the ministry of information and broadcasting (I&B) at the Shastri Bhavan in New Delhi. The police took the detained students to Parliament Street police station and released them later.
The FTII students, who had earlier gone on an indefinite strike against the "politically motivated appointment" of Chauhan, also demanded that the institute's governing council should be reconstituted.
According to the latest reports, representatives of the protesting students met the ministry officials in the evening and were later also expected to meet I&B Minister Arun Jaitley with their demands.
The students have been demanding the alleged saffronisation of the autonomous institute. "FTII is being saffronised and people close to the BJP are being appointed as heads of all the leading institutions," an FTII student was quoted by an agency as saying.
Another student told a TV channel that Chauhan lacked "stature and vision" to head the premier film training institution.