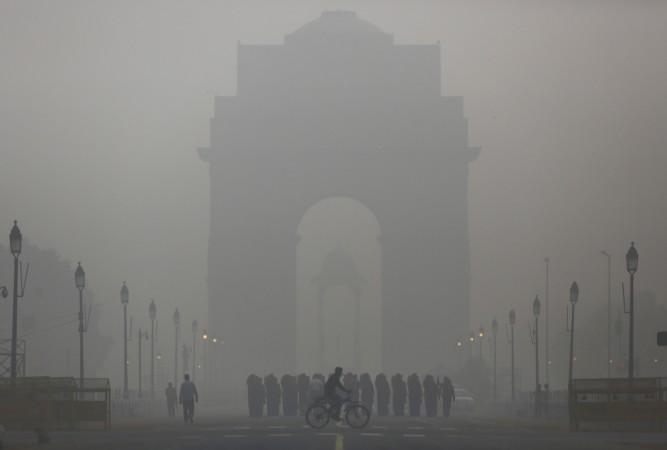 At least 1,800 primary schools remained closed in Delhi on Saturday due to alarming levels of air pollution in the national capital. The air in Delhi is not suitable for breathing as the pollutant levels in the air have crossed the safe limit by 12 times.
Air pollution in Delhi has shot up to alarming levels since October 30, when the Diwali festivities caused the city to be enveloped in thick brown smog. The decision of the authorities to close municipality schools came after scientists warned of severe health problems for children who are being forced to attend school. The shutdown is likely to affect more than 9 lakh children studying in the schools run by Delhi municipality.
According to the data by Delhi's pollution monitoring agency, the concentration of particulate matter (PM) 10 was more than 1,200 micrograms per cubic metre on Saturday morning at 9 am in Anand Vihar, while the safe level is 100 micrograms per cubic metre. The data also states that PM 2.5 in the air was recorded 13 times higher than the safe limit. Health authorities say that the elevation of the level of these harmful particles in the air can cause lung diseases if one is exposed for a long period of time.
"It has been decided to keep the municipal schools shut on Saturday because of smog in Delhi. The schools will operate as normal from Monday," Yogendra Mann, spokesman for the Municipal Corporation of Delhi, told AFP.
The ruling Aam Aadmi Party (AAP)'s spokesman Nagendar Sharma last month had downplayed the gravity of the situation in Delhi. When asked about taking the same measures as the Chinese government to clamp down on pollution like implementing traffic restrictions and controlling construction work, the spokesman said that such measures were impractical in a city like Delhi. The national capital, however, is choking on thick smog and continues carrying the tag of one of the most polluted cities in the world.
The environment ministry called a meeting with officials of Delhi's neighbouring states on Friday to discuss ways to combat the rising levels of pollution in the areas.
According to a report released by UNICEF, around 6 lakh children under the age of five die every year in India from diseases caused by outdoor and indoor pollution. The death toll due to air pollution is more than that caused by malaria and HIV/AIDS combined.