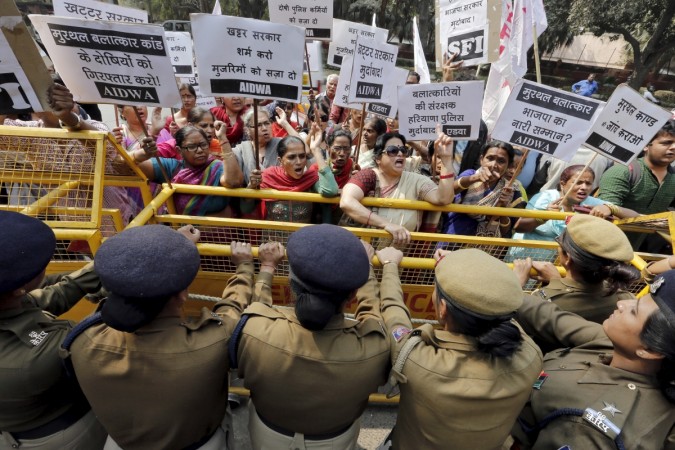 A 14-year-old Dalit girl in Delhi, who was kidnapped, raped and forced to drink corrosive material died on Monday after battling for her life for hours. Delhi Commission for Women (DCW) Chairperson Swati Maliwal had earlier intervened in the matter and had the victim shifted to Max Hospital in Shalimar Bag from government-run Lok Nayak Jai Prakash (LNJP) Hospital.
Maliwal took to Twitter on Monday expressing indignation at the system for failing to save yet another "Nirbhaya" — a reference to the 2012 gangrape victim Jyoti Singh.
"14 year old rape victim on ventilator n accused roaming free. Allegedly fed her corrosive stuff dat destroyed her organs. Shame. So tortured," she had tweeted on Saturday.
Maliwal was with the parents of the victim when she died.
She died just now. Delhi again failed her Nirbhaya. She suffered so much pain. N her perpetrators were roaming free!" she tweeted late on Sunday.
The suspects were later arrested. The police claimed that despite them arresting the accused thrice, the victim had turned hostile.
The victim was allegedly kidnapped by Shiv Shankar, her neighbour, on May 15. He had tied her up, raped her and forced her to drink a corrosive material.
"For two months she suffered everyday. She was forced to drink an acid-like substance after which she could not eat anything. Drinking water was also painful. She would vomit blood. Only one accused has been arrested while four are walking free. We want them to be arrested and punished," the victim's uncle told the Indian Express.
Maliwal questioned why the case was not filed under the SC and ST (Prevention of Atrocities) Act. She also said that the arrest was made after the DCW issued a notice to the Delhi Police.
She also asked for setting up of a high-level ministerial committee on women safety headed by the Home Affairs Minister Rajnath Singh.
Meanwhile, on Monday morning, Maliwal tweeted about another case of rape of a minor girl.
Woke up to another brutal rape of 4 year old by 30 year old man in Del. She's bled profusely n is in hospital. Going to see her right now.

— Swati Maliwal (@SwatiJaiHind) July 25, 2016
Met 4 year old rape victim. Marks over her body tell her brutal ordeal. In deep pain n trauma. Totally inhuman. When will Delhi b rape free? — Swati Maliwal (@SwatiJaiHind) July 25, 2016