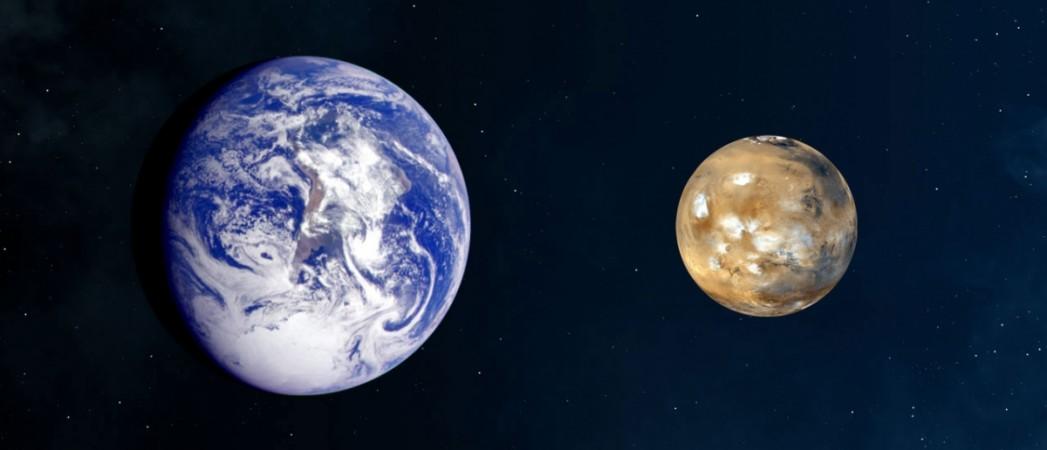 An absolute visual treat awaits stargazers this July. Mars is slated to come the closest to Earth in the last 15 years; a phenomenon that will make the Red Planet appear the brightest since 2003. Over the next few weeks, the distance between the two planets will reduce, as our home planet comes between the Sun and the neighbouring planet.
Mars will appear the brightest on the morning of July 31.
In 2003, the distance between Earth and Mars was 34.9 million miles - the closest in the last 60,000 years. Although this year's show is going to be impressive, it won't be able to beat the record of 2003.
This July, the Red Planet at its closest will be in the range of 35.8 million miles of Earth. Stargazers and astronomy enthusiasts will be able to get a spectacular view of the Red Planet's exceptional features. Get ready with your telescopes already!
The distance between Earth and Mars varies widely every year based on the distance between the other adjacent planets. Just about two years ago, the planets were located at opposite ends of their respective orbits, at a distance of around 47 million miles between the two.
While the stargazers with a telescope will be able to witness the details of Mars more closely, it will appear brighter than usual to the naked eye towards the end of July. At the time, Mars would rise after the sunset in the eastern sky, so keep your eyes glued to that part of the sky.
Although it will appear the brightest on July 31, the Red Planet will appear brighter than usual from July 27 and will continue to shine brightly throughout the month of August.
The next time Mars would come this close to our planet would be in 2035; so make the best of this opportunity!