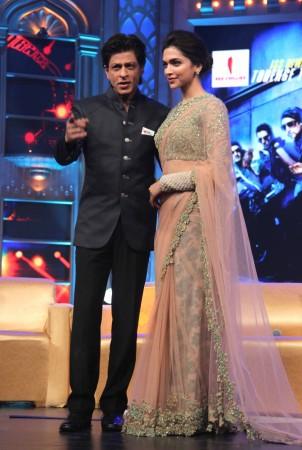 Shah Rukh Khan praised Deepika Padukone for taking the bold move and slamming the leading daily for posting a photo of her in a low cut dress taken from an awkward angle.
Bollywood celebrities, including Priyanka Chopra, Shraddha Kapoor, Alia Bhatt, Anushka Sharma, Gauri Shinde, Ranveer Singh, Arjun Kapoor, Farah Khan, Farhan Akhtar, Arjun Rampal and many others supported the actress on Twitter for taking the initiative.
Now, Shah Rukh becomes the latest celebrity to join the wagon, who praised Padukone and said one needs guts to take a stand on this matter.
"What she said was wonderful... we don't have the guts to do what she has done, but we believe in it and we support it," Shah Rukh said during the music launch of "Happy New Year", according to IANS.
"We should respect the individuality and the job we do. What she did was fantastic and it would be stupid of us to talk about that. We stand by her. All of us have to stand by her... but we should not trivialise it and make it a part of conversation."
The controversy erupted on Sunday when a leading daily posted a story on their Twitter handle which read, "OMG: Deepika Padukone's cleavage show".
The story irked Padukone who later blasted the daily for putting such pictures.
Dont talk about Woman's Empowerment when YOU don't know how to RESPECT Women!

— Finding Fanny (@deepikapadukone) September 14, 2014
YES!I am a Woman.I have breasts AND a cleavage! You got a problem!!?? — Finding Fanny (@deepikapadukone) September 14, 2014
Supposedly India's 'LEADING' newspaper and this is 'NEWS'!!?? pic.twitter.com/D3wiVVXuyM

— Finding Fanny (@deepikapadukone) September 14, 2014
When she was asked about the issue during the music launch, she replied saying, "I think I have said whatever I had to and everything else will be taken care of."