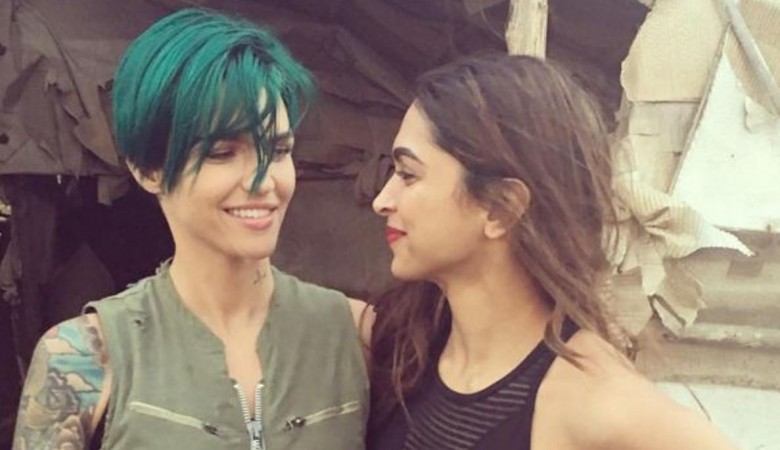 Ruby Rose, the co-star of Deepika Padukone in the Hollywood movie, "xXx: The Return of Xander Cage," has revealed on the social media her wish to do a Bollywood movie. The Indian actress is currently shooting in Toronto for "xXx," her first Hollywood movie in which she will be seen alongside several international stars, including Rose.
"Hanging out with @deepikapadukone has made me really want to do a Bollywood film," Ruby tweeted. Several pictures and videos of her and Deepika on social networking sites proved that the duo is getting along really well on the sets.
In fact, Ruby shook a leg with the "Bajirao Mastani" actress on the sets of "xXx" to the Honey Singh song, "Love Dose." She posted a video on Instagram, in which she wrote: When @deepikapadukone won't teach you how to be Bollywood but you try and improvise but then you have to actually shoot a serious scene also.. #lovethisgirl #webadiswear."
If Ruby continues to talk on the internet about her interest in Bollywood movies and songs, then it perhaps would not be long before she lands a role in a Hindi film. Meanwhile, Deepika's pictures with her other co-stars in "xXx" show that the Indian beauty is having a lot of fun indeed on the sets of her debut English film.
The "Orange Is the New Black" actress Ruby had earlier made headlines when she told a fan on Twitter that Deepika was "freaking her out" with her fitness videos. It was before the shooting of "xXx: The Return of Xander Cage" started.
When a fan told Ruby that she wanted to work out with her, she had replied: "@RubyRoseLover0 I don't know man @deepikapadukone is freaking me out with these fitness videos.. I have to catch up.. But pizza."