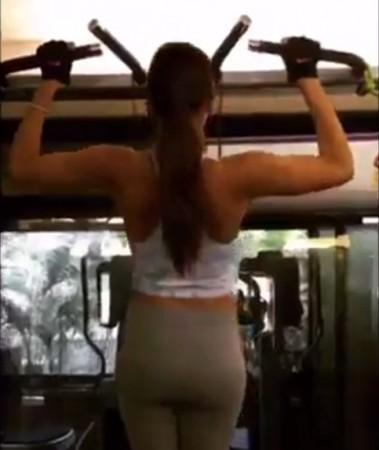 Deepika Padukone is working hard for her Hollywood debut "XXX-The Return of Xander Cage" and it is freaking her co-stars from the movie.
The leggy lass of Bollywood is making waves in the international market with her Hollywood debut. Deepika will make her big debut opposite Vin Diesel in "XXX-The Return of Xander Cage" and will be seen playing the actor's former love interest. And she is leaving no stone unturned for the role.
Recently, videos of Deepika working out in a gym, which are going viral, were shared on social by her fans. The videos have not only stunned the viewers and her fans, but also surprised her "XXX" movie co-star.
Ruby Rose, who is known for Stella Carlin's character in "Orange Is the New Black", will be seen sharing screen space with Deepika in the film. The "Orange Is the New Black" actress recently took to Twitter to tell a fan that Deepika is "freaking her out" with her fitness videos.
When a fan told Ruby that she wants to work out with the "OITNB" actress, she replied, "@RubyRoseLover0 I don't know man @deepikapadukone is freaking me out with these fitness videos.. I have to catch up.. But pizza"
Deepika has previously said that she is excited as well as nervous about her Hollywood debut, Ruby seems to have similar feelings about working with the Indian actress.
"I am very excited. But I want to confess that I am very nervous. Most importantly, I feel proud to be a part of a film where I get to show my ethnicity," Deepika told PTI. The "Bajirao Mastani" actress added: "The reason they are roping me is because of my background. I really hope that I do well in the movie and people go and watch it.
Watch Deepika's work out video below: