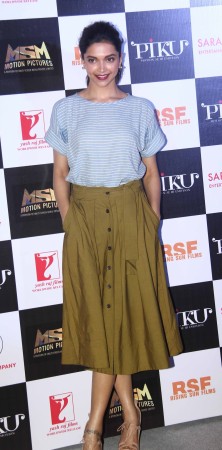 Actress Deepika Padukone's short film "My Choice" has received mixed reviews from viewers, some of whom have exercised their choice to vent their anger at her, calling her idea of woman empowerment featured in Vogue video is 'wrong' and 'misguiding'.
"My Choice", which has been written by Kersi Khambatta, directed by Homi Adajania and produced by JSW and Sangita Jindal, is a social awareness initiative by fashion magazine Vogue India.
The 2.34-minute video featuring 99 women from different walks of life sends out one powerful message about women's empowerment.
The short film was released on YouTube on Saturday, 28 March and has received overwhelming response. The video has been viewed by 4,273,277 people and has got 25,328 thumbs-up and 9,694 thumbs-down. Over 5,360 commented on the video and expressed their views, which are mixed.
Some viewers are impressed with "My Choice" and are all praise for Deepika Padukone. But most comments show that many are not happy.
Interestingly, those who don't like the video includes women, who have blasted the actress for not understanding the thin line between 'freedom' and 'selfishness', and 'misguiding' young girls.
Here are some comments by women who have expressed their displeasure over Deepika's act:
I agree that everyone is unique and so are their choices. However, being a girl, I don't think I want to establish my uniqueness at the cost of hurting and cheating others. There should be mutual respect for other individuals. Whether it is male or female, respect is earned.
Deepika: why aren't u going to school and behaving so uncultured? I invested lakhs on u! Daughter: My choice!
Daughter in her teens..
Deepika: Why did u dance on the road amidst traffic like mad?
Daughter: My choice!
In her 20's...
Deepika: How long will you spend my money without a career?
Daughter: My choice!
In 30's..
Deepika: how can u marry 2 guys and a girl at a time? It's against law and I can't accept this!
Daughter: My marriage, my choice mom!!
Deepika in her 80's with an interviewer...
My daughter learnt only 2 words from me-"My choice" and that changed both of our lives, surprisingly, that video still inspires her.
Interviewer: Aww! How sweet :) you empowered your daughter!!
Deepika: (with a fake smile) of course, empowerment starts from home! (Thinking-"Homi, I'll never forgive you for this!")
What the hell Deepika Padukone! What the f*** is this! Sex before marriage is ok but what the hell u mean by having sex outside the marriage , if a women is so desperate and willing to have sex with different people then she should never marry! Being a woman doesn't mean that u can hurt anyone's sentiments. if a man does it we call him cheap , mcp but if a women is doing it we are calling it women empowerment ! U r such a hypocrite
WHAT N**S****? B*******! I am a woman and I feel this piece of trash is just feminist. If you have sex outside marriage that's CHEATING and you are a SLUT.. If you come home late, he will definitely be worried if he cares for you and if you sleep around and come late and don't tell him, you are a B****. If he had sex with you in relationship and broke up with you for silly reason, don't file a rape case against him, Its his CHOICE.. Then, If a group of guys stop you on your way and Gangrape you, Deepika, its their CHOICE.. If Ranvir Singh sleeps with another woman every night, don't stop him, ITS HIS CHOICE.. Now if possible, please talk about gender equality here. PEOPLE AND VIDEOS LIKE THESE ARE THE REASON WHY YOUNG WOMAN TODAY ARE GETTING SPOILT...THIS DOESN'T EVEN HAPPEN IN WESTERN CULTURE AND EVERYONE IS LOYAL TO THEIR PARTNER THERE... EVEN THEY LAUGH AT THIS CRAP.. PLEASE DON'T MAKE INNOCENT INDIAN WOMEN ASHAMED OF THIS... DEEPIKA, IF YOU HAVE SLEPT WITH MANY MEN IN PAST, DON'T USE THIS VIDEO TO SHOW THAT YOU WERE RIGHT.. CHEAP W****..
I honestly think this is utter b*******. How exactly is this women empowerment? "Sex outside marriage" is in NO WAY empowering a woman, rather misleading them to immoral ways of life. And a woman is not solely responsible for giving birth, alright? How will a woman give birth if she isn't provided with a sperm? Women and men go hand in hand, in all aspects of life. This doesn't promote women empowerment. It's merely an attempt to suppress men. Would you react rationally if a guy in this video said, "sex outside marriage - my choice?" ABSOLUTELY NOT. Everyone would go crazy if a man said the same words. Women empowerment does not mean suppressing the other gender. Everyone needs to get their facts clear.
A super shallow video by a bunch of women who are more or less running Vogue India and believe me these very bunch of women don't allow even a size 6 to walk through the Vogue doors leave aside size 15!
Deepaka might have been sleeping with many and her elders might have asked and scolded. So out of frustration and anger on her elders and society, she brought up with this video to spoil whole society. Bloody depressed b**** mental w**** is the assumption that I get of this video.