Director DJ Caruso has confirmed that Deepika Padukone, who made her Hollywood debut with action-adventure thriller --xXx: Return Of Xander Cage -- opposite Vin Diesel, will star in the fourth instalment of the film franchise.
As soon as it was announced that Chinese singer-actor WangYuan, also known as Roy Wang, landed a role in xXx 4, a fan asked the director whether the fourth instalment will have Deepika playing the lead role. Caruso replied with a big "yes".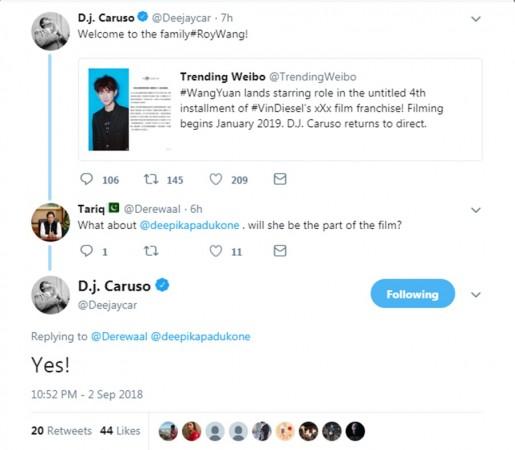 In xXx: Return Of Xander Cage, Deepika played the role of the ruthless huntress Serena Unger and was seen doing some high-octane action sequences. The movie also stars Nina Dobrev, Ruby Rose, Tony Jaa, Donnie Yen and others.
A couple of months ago, Caruso tweeted that he wants a Bollywood style dance song in the next instalment of the xXx. He spoke about the popular Lungi Dance song from Deepika and Shah Rukh Khan's 2013 movie Chennai Express.
When a fan asked the director if the song would be a part of the end credit or a promotional song, Caruso replied, "Yes".
Meanwhile, Deepika is gearing up for her impending marriage with boyfriend Ranveer Singh. The lovebirds will reportedly tie the knot on November 20 this year and the preparation for their wedding has already begun.