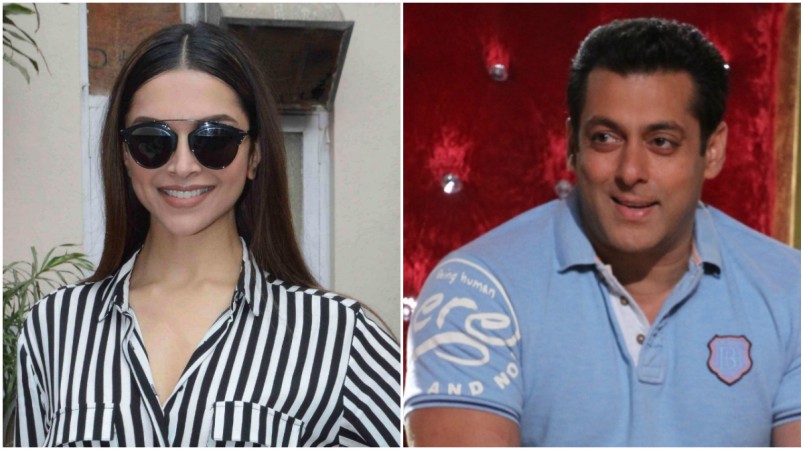 Deepika Padukone and Salman Khan have come up as the most trending Bollywood stars in the last week for their respective big movies – Padmaavat and Tiger Zinda Hai, according to a survey.
Score Trends India, an independent company that tracks data points across over 600 media outlets in India, issued its weekly ranking list of Bollywood stars who remained in news the most.
Also read: Has Salman Khan broken ties with Kabir Khan due to his closeness with Tiger Zinda Hai director Ali Abbas Zafar?
Deepika topped the list among the actresses, while Salman secured the first slot among male actors. Deepika is followed by Sonam Kapoor, Alia Bhatt, Priyanka Chopra and Sonakshi Sinha.
On the other side, Salman grabbed the top position, beating Akshay Kumar, Shah Rukh Khan, Amitabh Bachchan and Ranveer Singh.
Deepika has been in news even before the release of Padmaavat, owing to the repeated death threats issued to her by protestors of the film. After the film's release, she made news for her powerful performance in the magnum opus, and also for the huge box office collection that it has been making.
Salman's Tiger Zinda Hai has also been making headlines for being the biggest blockbuster of the superstar and also of the year 2017. Akshay got the second slot for his next film Padman, which is slated to be released on February 9. Sonam too is a part of the film, and so she made it to the second slot in the female list.
Deepika has become the reigning queen of the industry as she is now the only Bollywood actress to have as many as seven Rs 100 crore films to her credit. Apart from Deepika, Ranveer has also been receiving a lot of accolades for his performance in the film. Although he plays the antagonist, Ranveer stole the show with his wicked antics.