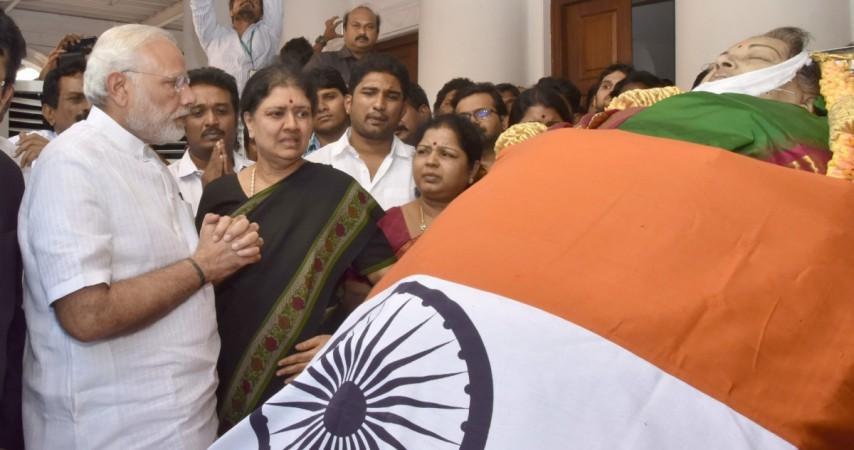 Deepa, former Tamil Nadu Chief Minister Jayalalithaa's niece, has announced that she would be launching her own party soon and that she is confident of the support of the AIADMK cadre.
Deepa addressed the people who had gathered outside her house and requested them to remain calm. AIADMK founder MGR's centenary celebrations would begin from January 17 and "on that day, with his blessings, we will function together," she said.
"We are to begin a new journey. An announcement on it will come out soon," Deepa told reporters.
A crowd gathers outside Deepa's house each day as she waves the 'two leaves' symbol to them. Her supporters have erected several banners and posters in front of her residence claiming that she would take Jayalalithaa's legacy forward. There are several banners which graphically depict Deepa giving a bouquet to Jayalalithaa. Several posters showing Deepa taking over the former CM's leadership have also been put up.
Nirmala of Deepa Peravai told the New Indian Express: "We are not attracted to Deepa not because she is a relative of Jayalalithaa. We want her to lead us since she has the capabilities. It is the wish of cadres. She is consulting senior functionaries of the AIADMK. She has assured to announce a good decision soon. We are expecting it eagerly."
But Shanmugam of Sattapanchayat movement said: "Anyone can enter politics in a democracy. But, claiming AIADMK's legacy since she is a relative of Jayalalithaa is not proper."
Deepa has become a leader of sorts for AIADMK cadres who are unhappy with Sasikala Natarajan taking over as general secretary of the party.
"I never claimed I am the political heir (of her aunt). But owing to my natural relationship with her, I have been seen in that sense. In my view, our relationship was like between a mother and a daughter," Deepa told TOI.