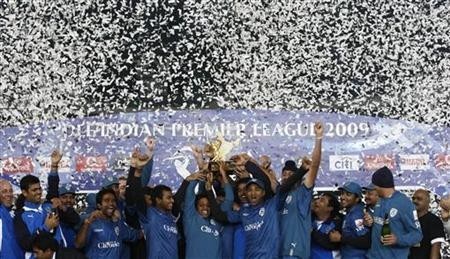 Indian Premier League (IPL) team Deccan Chargers, the winner of the IPL second season, have been put on sale, following financial problems and undue pressure from banks and lenders.
Deccan Chronicle Holdings Limited (DCHL), the owner of the Hyderabad-based IPL team, has issued a tender notice in the newspapers inviting prospective buyers to bid for the team.
According to the tender notice, "The winning bidder will acquire from the DCHL on an "as is where is" basis the right to own and operate the IPL team currently known as Deccan Chargers, which is and will continue to be based in Hyderabad and which competes in the Indian Premier League and which has the opportunity (if applicable and subject to qualification) to compete in each and any CLT20 which is staged from 2013 onwards."
As mentioned in the tender notice, the owner should be willing to clear the liabilities of the DCHL and use the name Deccan Chargers.
The bidding process will begin on Friday and the documents for invitation to tender and the bid can be acquired from BCCI office in Mumbai upon payment of ₹ 500,000 favouring DCHL. The deadline for submitting the bid is 12 pm, Sept 13, and the new owner will be announced on the same day.
Videocon Group to Bid for Deccan Chargers
Venugopal Dhoot, chairman of Videocon Group, has expressed interest in bidding for the Deccan Chargers after the cash-strapped DCHL issued the tender notice in newspapers.
"Yes, we are interested and will place our bids for buying out Deccan Chargers. It's a good fit for our brand and will be used to connect to our consumers," Times of India quoted Venugopal Dhoot as saying.
According to the publication, DCHL and BCCI's valuation of the Deccan Chargers franchise is ₹12 billion but it is expected to be sold for ₹8 billion, 60 percent less than the actual valuation. An industry observer said that Videocon, which has branding budget pegged at ₹2 billion per annum, would benefit from buying the IPL franchise as the return from the branding exercise will be huge.